Wine and Spirit Book Reviews
One of the the things I love about wine is the knowledge that I learn as I taste and study my way around the world. One of the ways I gain this knowledge is by reading books written by people with more knowledge and experience than I have and then testing what they say with my own experiences and taste buds. Below I'll provide my take on some books I read.
Wine Books
Spirit Books
Sometimes the Children of the Grape are Children of the Grain too. There is nothing like a good book to get you experimenting with a new favorite drink.
Negroni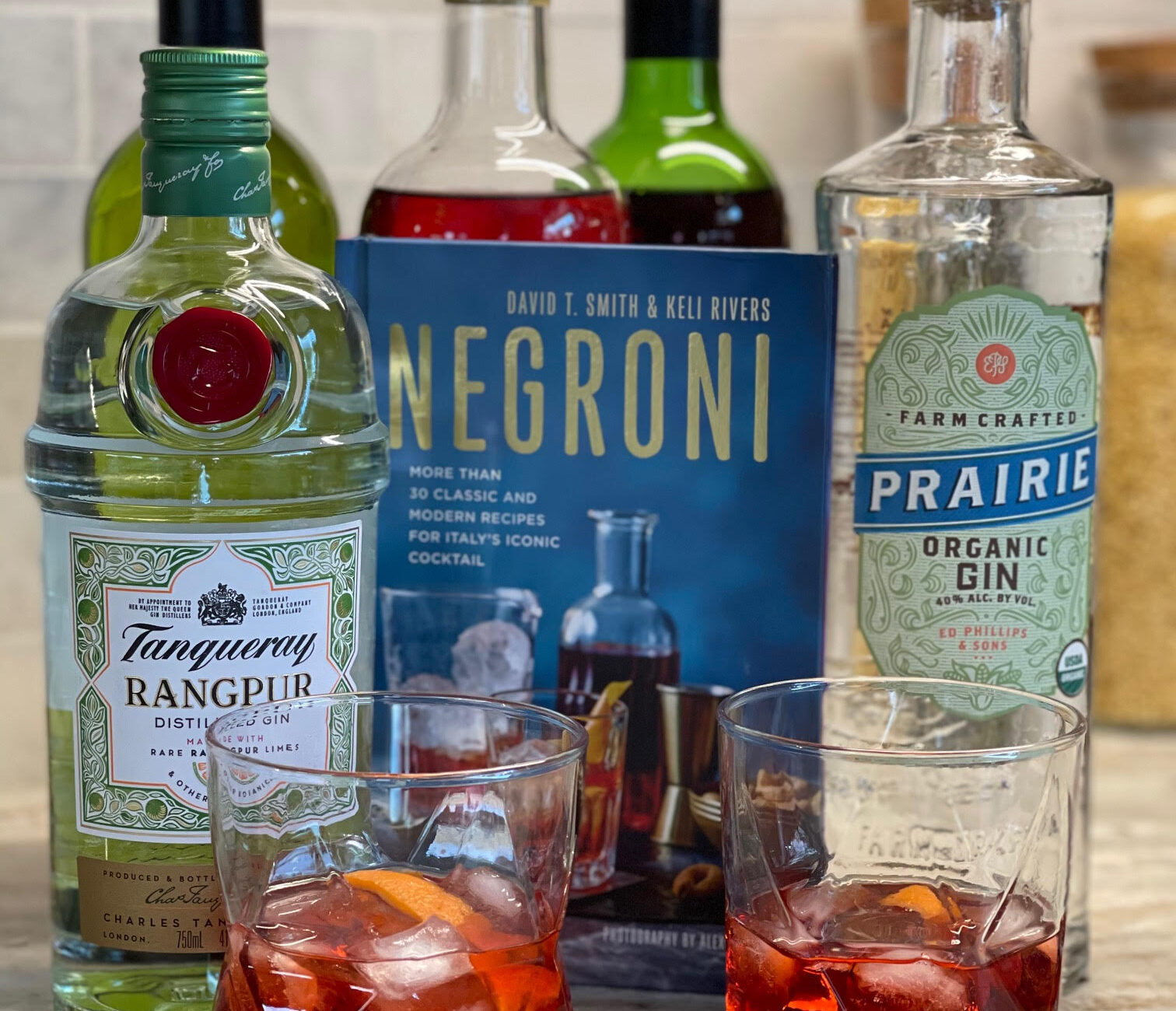 Negroni
I was given the opportunity by BevFluence to review a book about the classic cocktail the Negroni. This book was provided to me free of charge.
For those of you like me who have a limited knowledge of a Negroni, it is an Italian cocktail with 3 ingredients mixed in equal parts. Campari, Gin, and Vermouth. Or not. It becomes more complicated as this drink has evolved and been modified over time, but more on that later.
David T. Smith and Keli Rivers have produced a new book, published by Ryland, Peters, & Small, titled simply Negroni, More than 30 classic and modern recipes for Italy's iconic cocktail. David and Keli are Gin experts and have a lot of information to share on this spirit and the iconic Negroni. David is an author, has chaired the Gin judging for the American Distilling Institute since 2016, and is a member of the American Distilling Institute, The International Gin Association, and the Drink Writers Guild. Keli has spent over 28 years in the hospitality industry all over the world, including being a "ginnoisseur" at San Francisco's Whitechappel and the US brand ambassador for Sipsmith. The photos where done by Alex Luck, and he has done an amazing job of capturing the flavors in the colors displayed.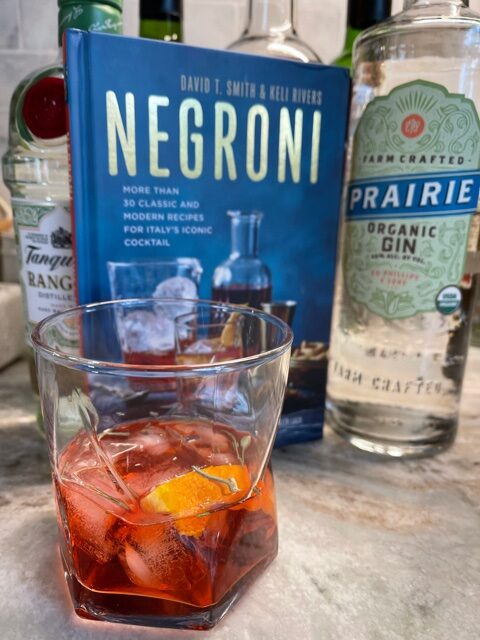 The Negroni was reportedly invented at Caffe Casoni in Florence, Italy in 1919. Named for "Count", Cowboy, banker, and
gambler, Camillo Negroni who legend states asked his friend and bartender Forsco Scarselli to adjust his favorite drink, the Americano, by replacing the soda water with gin. I don't know about you, but I think I would have liked to party with the Count.
The most interesting and eye opening fact I learned from David and Keli is that Negroni is a living breathing entity that is ever evolving. My favorite Cocktail, the Manhattan, is basically the same any place I order it. Maybe it has Rye maybe Bourbon, maybe a Luxardo cherry or one of those ice cream Maraschino cherries, but I have never had a Manhattan made with Gin or Rum. David and Keli's book has Negroni recipes made with all kinds of Spirits. These recipes range from bright and citrusy summer drinks, to spiced winter drinks, and even experimental non-gin Negronis.
Mixing Samples
I started my journey at the beginning, with the classic. In order to make my classic Negroni I wanted a Gin that had some herbal essence to it. I chose two different Gins, Tangueray's Rangpur with Lime and mandarin orange, and Prairie organic Gin with more juniper, peppercorn and pine. I made two Negronis, one with each Gin, Campari, and Sweet Red Vermouth in equal measures. Both of these tasted really nice with very good, but not overwhelming bitterness. I went back and forth on which one I liked best, sip after sip I would switch my choice, needless to say I liked them different, but the same. I decide to see if I could cut the bitterness while keeping the ratios that same. This time I made my classic Negroni not so classic by using dry vermouth in place of the Sweet Red vermouth. I found it to be an improvement. The Gin seemed brighter and the finish more flavorful and less astringent. I have to thank David and Keli for providing the inspiration to adjust the mixture on this classic cocktail.
Maybe the 3 or so Negronis started whispering in my ear while I started paging through the book looking at these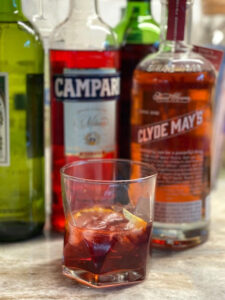 glorious renditions of this drink with a spirit other than Gin. I remembered I had some Clyde May's Alabama Style Whiskey. This Whiskey has an overripe/dried apple element that I was sure would work really well with the herbal bitterness of the Campari. Well we don't win them all. It wasn't bad, just more astringent on the finish than I like. This may be a bear I wrestle another day to get the mixture right because I'm still sure this will work. My three Negroni friends agree with me.
My not quite failed experiment encouraged me to keep flipping through the book deep into the experimental section to find the Boulevardier. As David and Keli tell us this drink is believed to have been created by the American writer Erskine Gwynne while living in Paris at Harry MacElhone's bar. This version is Campari, Red Vermouth, and Bourbon. Sign me up.
Whiskey Negronis
As I stated above Whiskey is a go to spirit for me. My first Boulevardier I made as David and Keli wrote it, using Campari, Red Vermouth, and Bourbon in equal measure. I like this mixture, but… There was something off just a bit, and as I mentioned above with the mixtures on the Classic Negroni moving from the sweet red to dry Vermouth can make a huge difference.
I really enjoyed this book. It would be a perfect gift, or self-gift, for any Gin or cocktail aficionado. David and Keli did a great job building the story and history of the Negroni page by page. I love wine and spirit history. Sipping a Negroni it is easy to imagine sitting in a French café in the roaring 20's listing to some Avant-garde jazz. As Cole Porter encouraged us in his 1933 song, we should "do what all good scientists do, Experiment". This is exactly what David and Keli have encouraged me to do. I found myself flipping to the experimental section starting on page 36 all most every time I opened this book. I flip the pages letting my eyes taste each ingredient of every recipe, some with anticipation, some with trepidation, but always with curiosity.