Once upon a time in a valley Kingdom at the foot of the snowy craggy mountains, there was a fountain filled with wine. No really, this is not a fairytale.
The Kingdom of Aragon was located in the Northeast corner of Spain between the 10th and 15th centuries. When King John the Faithless died in 1479, the Kingdoms of Aragon and Castile were united, creating the core of what is today, modern Spain. Today most of us know Aragon as an autonomous community in Spain.
Aragon comprises three provinces Huesca, Zaragoza, and Teruel. Across these provinces the terrain is extremely varied from glaciers to valleys and arid steppe plains. The elevation of these areas range between a low of 150 m above sea level in the Ebro River valley and the high point Monte Perdido, the third highest mountain in the Pyrenees, at 3,355 m. The climate of Aragon is mostly a continental Mediterranean climate, although due to the extreme elevation changes the average temperatures varies from relatively moderate to much cooler with the potential for frost 6 months out of the year.
As interesting as the 3 provinces are, I'm more interested in their wine regions. Aragon has 4 DOs (designations of origin). 60% of all vineyards in Aragon are located in one of these 4 DOs.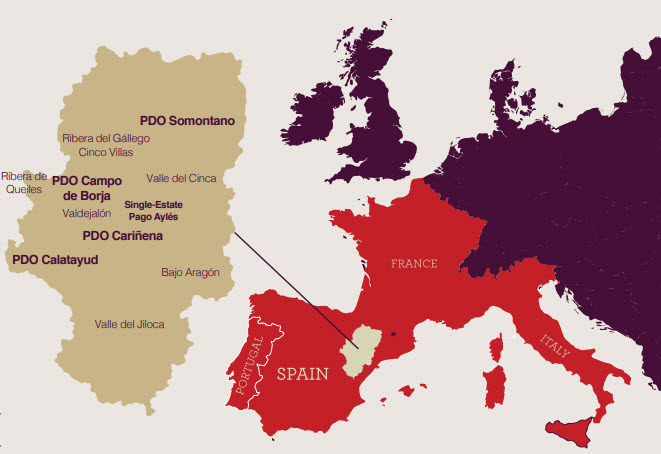 DO Somontano
Somontano started the production of wine when this area was under control of the Roman Empire, and that production continued through the middle ages under the care of the priests and monks who lived here. Somontano which means "at the foot of the mountain", is a small region in the middle of the province of Huesca, and is known to produce some of the best wines produced in Aragon.
DO Cariñena
The name Cariñena can refer to 3 different things. A city, a grape, and an appellation. It is one of the only cities in the world named for a grape. The region is believed to be the source of the Cariñena, or as it is known internationally, Carignan grape. Its official name in Spanish is now Mazuelo.
The village of Cariñena was originally named Carae by Pliney the Elder, and was a Roman city where the preferred drink was honeyed wine. Every September the Fiesta de la Vendimia, or harvest festival is held in Cariñena's Plaza del Vino (wine plaza). When King Philip II visited Cariñena in 1585 the villagers filled the village water fountain (Fuente de la Mora) with wine in his honor. See, I told you it wasn't a fairytale. The villagers continue this tradition every year in an act known as the Exaltation of Wine.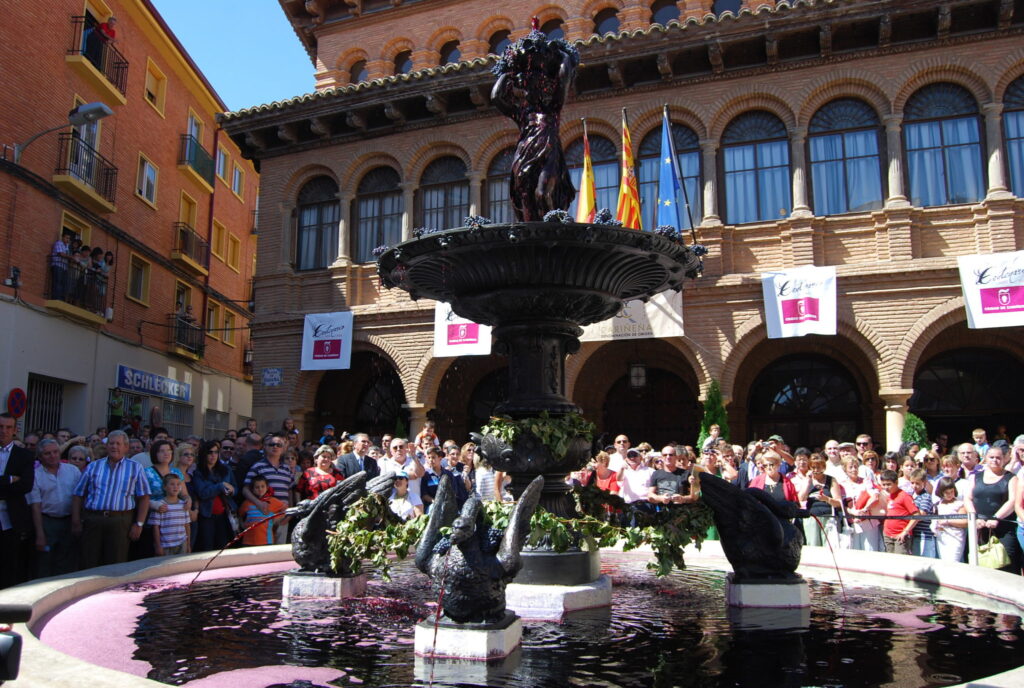 As a Denominación de Origen Protegida, Cariñena is one of the oldest protected areas in Europe and is known for its use of traditional grapes, although many international red grapes are allowed including; Cabernet Sauvignon, Garnacha Tinta, Juan Ibáñez, Mazuela, Monastrell, Tempranillo, and Vidadillo.
DO Calatayud
Located in the southwest of the Zaragoza province, the DO Calatayud, has a very dry climate with a lot of sun, cold winters, and hot volcanic springs. One of the youngest DOs and the primary grape grown here is Granacha, with some vines more than a 100 years old. Large diurnal temperature shifts help produce balanced wine and some are produced with carbonic maceration like a Beaujolais. The video below provided by the Wines of Aragon provides a great glimpse of this region.
DO Campo de Borja
On the opposite side of Zaragoza lies Campo de Borja. The Veruela Monastery acquired vast quantities of land in the 15th century and planted many vines. The monastery was influential in the wine production of this small district up through the 19th century. The vineyards in this area are primarily planted with Garnacha grapes, however other red varieties are also accepted. These grapes include Tempranillo, Mazuela, Cabernet, Merlot, and Syrah. For white wines, Macabeo, Chardonnay, and Moscatel grapes are allowed.
Education
If you are looking to increase your knowledge of the wines and wine regions in Aragon, the government of Aragon along with the Wines of Aragon have created a free training course you can take and earn a certificate as ad Aragón Wine Expert. You can access the courses here (https://www.aragonwineexpert.com/) and see my AWE certificate – Aragón Wine Expert below.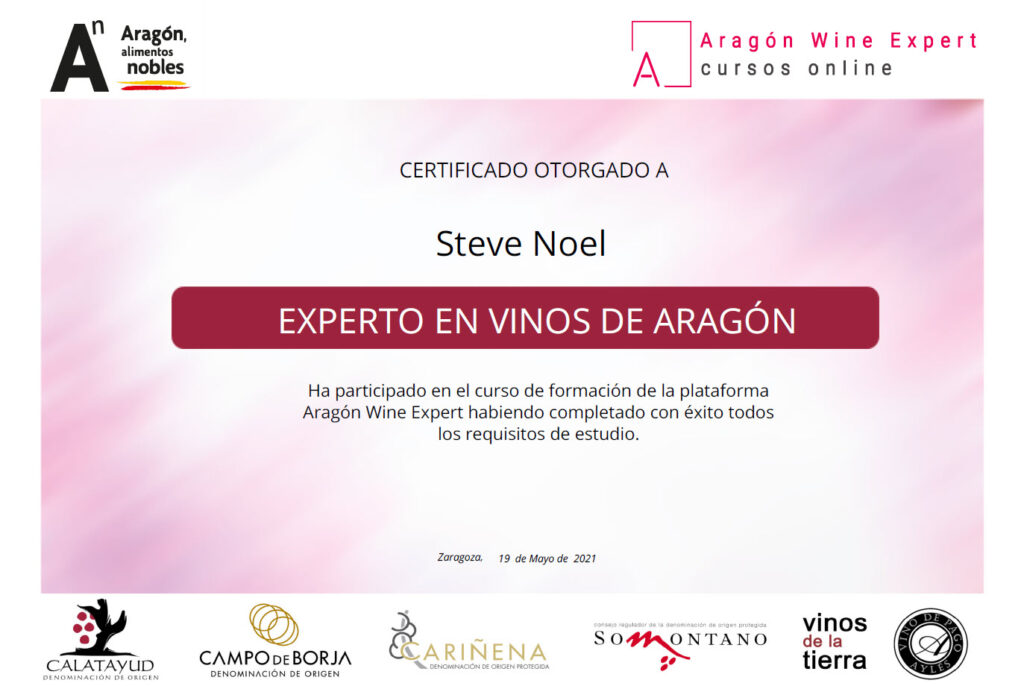 Tasting
For my tasting of wines from this region of Spain, I selected a highly available and affordable wine you should be able to find everywhere. This wine is from the DO Calatayud, yet does not carry the DO Calatayud designation. This wine is evodia from Bodegas San Alejandro.
The Region
Located on a high dry plain in the Zaragoza province between 550 m (1800 ft) and 900 m (3000 ft), lies DO Calatayud. This region is the second largest wine region in Aragon with over 5,600 hectors of vines over 46 municipalities. More than half of the municipalities in Zaragoza have fewer than 300 villagers. In addition to grape vines this area has olive and cherry orchards and produces grain. In the image below from Google Maps shows an area near Alarba. You can see how the vineyards (green lines), are mixed into the orchards (green dots) creating this biodiverse patchwork.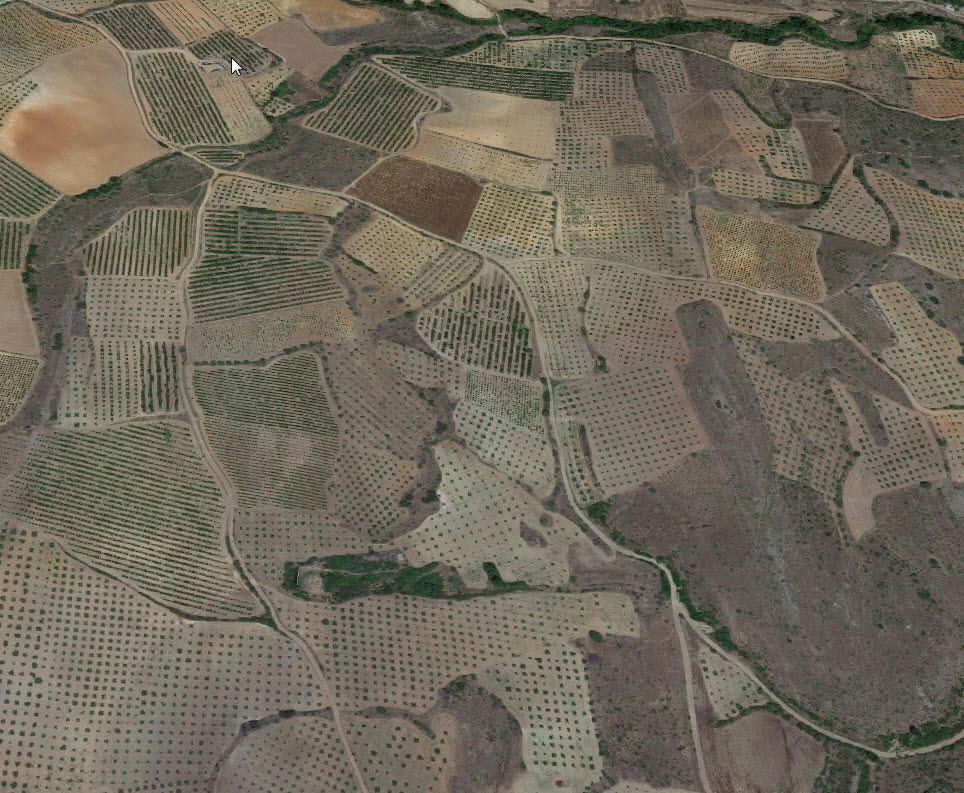 A wine press was discovered here that dates to the 2nd century BC, and the first written reference to wine was made by historian Marco Valerio Marcial from the Roman city of Bílbilis (located near Calatayud) in the 1st century. In the 1960s the region's winemakers came together and created a cooperative, and later in 1989 the DO status was obtained.
The Winery
Founded in 1962, Bodegas San Alejandro is located in Calatayud. It has 950 hectors of grapes on 1250 plots, owned by 150 different families. This winery produces several lines of wine at different price points with 85% of the wines being exported to more than 40 countries. I told you it was available. The specific line of wines that I am talking about it the evodia line.
Evodia
The evodia story started when wine importer Eric Solomon met winemaker Jean-Marc Lafage and Yolanda Diaz, managing director of Bodegas San Alejandro.
Yolanda is a native from the Calatayud region and is said to know its terruño, which translates to native land, or terroir, better than anyone.
Jean-Marc Lafage is the owner and wine maker at his estate Domaine Lafage in the Roussillon in France. He has had a relationship with the wine import company European Cellars, who imports the wines he produces at Lafage.
Eric Solomon founded European Cellars in 1990, importing little known wine growing regions and promoted young, innovative winemakers. Eric was an early pioneer and proponent of Garnacha from Spain. His relationship with Jean-Marc, Yolanda, and Garnacha created the evodia line of wine.
The Grape
Garnacha is believed to be a native grape from Aragon. While there are many different varieties, mutants, and crosses of Grenache (how it is spelled in most of the world), I will be focusing on the ones of Spanish origin, specifically in Aragon.
Garnacha one of the most widely planted red wine grape varieties in the world. It ripens late, so it requires hot, dry conditions such as those found in Spain, especially like in Calatayud. Garnacha typically has a spicy, red berry-flavored and is soft on the palate and can produce a wine with high alcohol content. Careful control of yields will produce the flavor profiles.
Aragon has the most acres of Garnacha in Spain with 40,034 acres (16,201 ha) planted. Garnacha is the dominant variety in the region and is typically used to produce single variety wines. Calatayud (91% of its production is Grenache) has the highest altitude Garnacha vineyards and is the only DO to legally define "old vines" (35 years minimum).
The Wine
When the evodia wine project was conceived, it started when Yolanda Diaz identified a unique place in Calatayud. A high dry plateau at 900 m (3000 feet) near the villages of Atea, Acered, and Alarba, close to the Sierra Santa Cruz Mountains.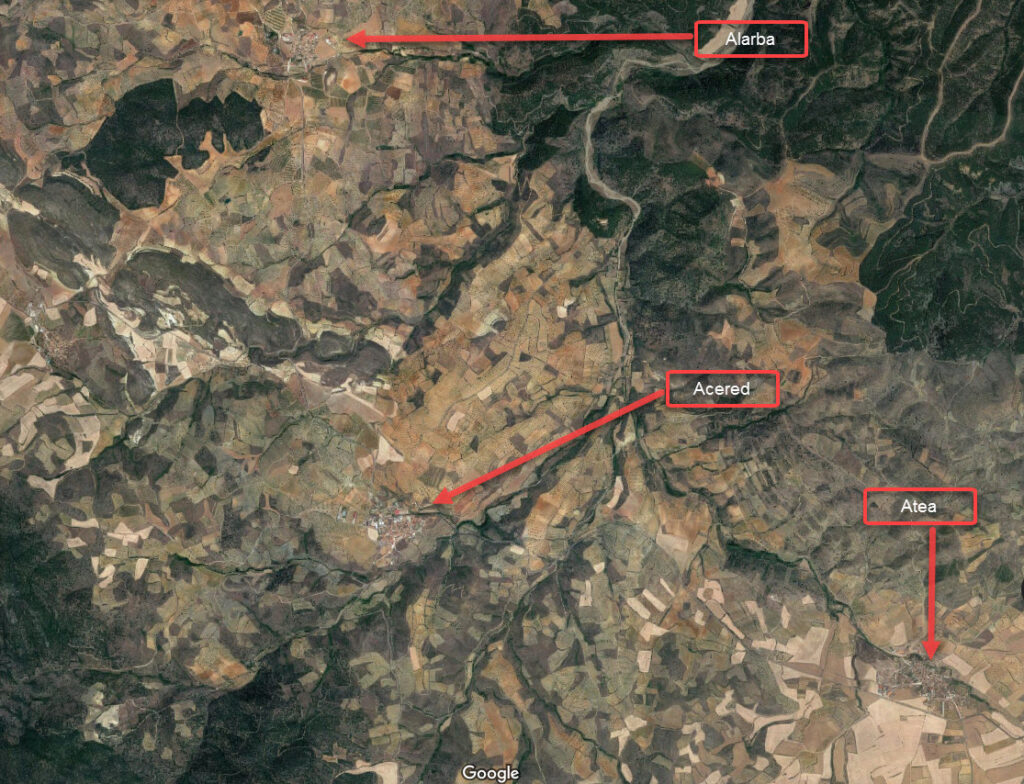 Here there are 160 hectors of 40-100 year old head trained Garnacha vines that produce an average yield of 4,000 kg/hector (3500 lbs. per acre). These vines are found in small plots scattered among cherry orchards, some at slopes of up to 25%. While the exposure of the vines may be different, the soil is the same, slate and quartzite over clay.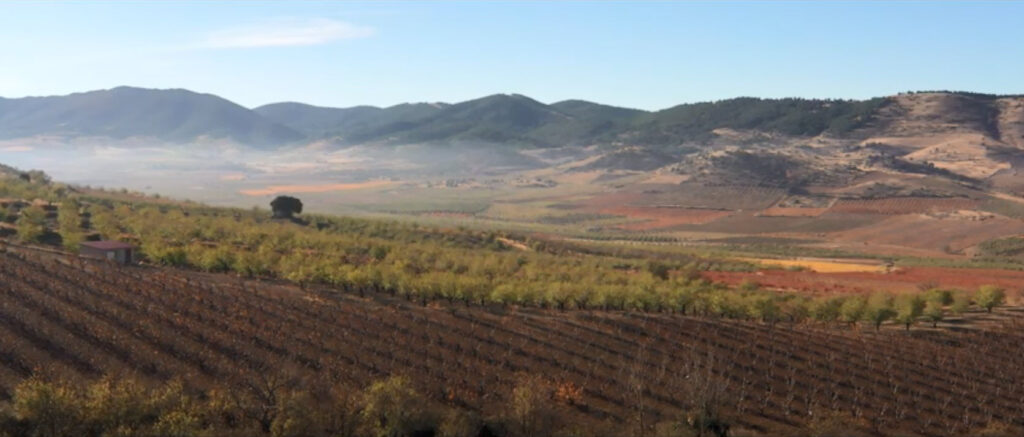 These grapes are hand harvested. Once harvested 80% of the grapes are destemmed but not crushed while the other 20% are left whole cluster. Fermentation takes place in a concrete vat over 20 days, and then left for 7 days in a gentle post-fermentation maceration using the topping technique. The wine is then aged 6 months, 80% in Concrete tanks, and the other 20% in neutral French and American oak barrels, and concrete eggs.
Pre Taste Thoughts
Garnacha tends to be a high alcohol wine. The general flavors are of red fruits, like a strawberry, but cooked a little. I'm expecting a little spiciness, but not as much as a Syrah. Being fermented and aged in concrete, I expect some Minerality. My bottle is a 2017, a couple of years in bottle may soften it a little.
Look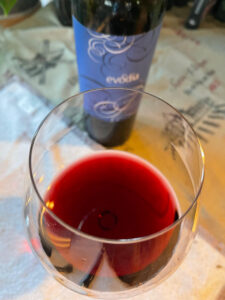 This wine has a beautiful pale ruby color, clear and running to a clear rim at the edge of the glass. The wine shows many thin legs, not surprising with the alcohol levels.
Nose
Muted red fruits, but not stewed or cooked, fresh just subdued. Spicy herbal, current, bay leaf, stony wet slate, cherry.
Taste
Really well balanced wine. There are nice acids that just keep the wine bright in your mouth but do not over power the 2 other main tastes. First the fruits, imagine taking some raspberries out of the refrigerated case at the grocery store in December. They look like raspberries, smell like raspberries, but when you put it in your mouth it tastes like water, some seeds, and a little ghost of a raspberry. Now crush these and let them sit a while and the flavor develops. That is this wine. Very delicate fruit flavors with just enough grape tannins from the whole clusters to meet the light acids and get your mouth ready for the next sip. There is a stoniness, in this wine. It rides along with those delicate fruit flavors and gets pulled out all along your tongue, from the tip to your molars.
Post Taste Thoughts
Evodia translates to perfume. In my mind this name only applies to the wine in the same way you catch a faint lingering aroma that you can't quite remember, but it makes you happy.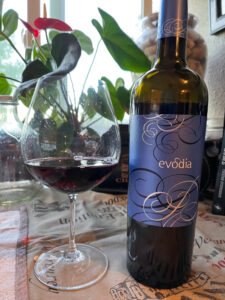 What a well-crafted wine this is. I restrained myself from using the word elegant in the tasting notes and I had to sit and think why I did that. I had another glass of evodia while I though it through. That helped… a lot. This is a well-integrated, precocious wine. It is a young wine, and will always be so, sophisticated for a 4 year old, but not elegant. It punches above its weight class and for those who like a French style old world wine, this is produces in that manner. I like this wine and plan on picking up a few to have on hand. This wine is $10 a bottle at most retail wine outlets and would be worth twice that price.
Conclusion
I want to thank the Wines of Aragon for their helpful online course.
If you want to learn more about this region and get some amazing food and wine parings, check out some of my wine and foodie friends posts below.