The first two parts of this story covered not only what Urban Wineries are, but also some of the trends and thoughts they share with other inventive winemakers around the world. In this final installment, I will share what I learned while talking to members of the San Diego Urban Wineries.
"When I wrote my business plan, there were 13 microbreweries within a one mile radius of here. There are now 18, and that's good." states Négociant Winery's co-owner Zane Mumford. "Urban Wineries have always succeeded and done well where the breweries do well."
If this holds true, then Zane and the other 13 members of San Diego Urban Wineries are in for quite a ride. San Diego currently has over a hundred and twenty six breweries operating currently. The first commercial brewery after prohibition in San Diego was opened in 1989, so the growth has been rapid to say the least.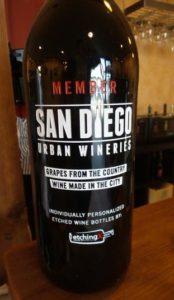 "We have a large tourist economy", Jenna Gripp, SPV Manager of San Pasqual Winery's Seaport Village Tasting Room explains, "And while many of them [tourists] enter the tasting room looking for something like their favorite Cab, Zin, or whatever, they want to try and buy local, and we want to provide that experience."
Eric Van Drunen, President and Winemaker at Vinavanti Urban Winery stage whispered instructions to a new employee who was on his way to greet some arriving customers as I walked into his winery located in the Hillcrest area. "Be sure to tell them we are a winery", Eric emphasized. Later that evening, after lots of tasting and lots of conversations, that statement came up again. When asked, Eric said, "Look, I want people who come in to understand they are getting something unique and authentic, not just walking into a shitty wine bar that doesn't carry any of the wines they know or have ever tried."
These are truly tasting rooms, not wine bars. None of the winemakers I spoke to have a negative feeling about wine bars, but making sure the consumer coming in the door understands the how and why they are different than a wine bar, is very important.
This is especially important for Eric and his winery. The fact that he is using natural wine making methods means he is pushing people's comfort and taste zones further than any other I have seen in a while. Vinavanti is a Certified Organic Winery. Using mostly San Diego County sourced fruit including Viognier, Grenache, and Cinsault grapes, along with many of the other grape varietals that are more recognizable to the average wine consumer. He then does the unthinkable for most winemakers, by allowing the naturally occurring yeasts to ferment the grapes into his wine. This imparts unique flavors into the wines that the average consumer may not expect, or want. Eric summarized by saying, "I want to educate the consumer not only about where wine is from, but how it is made, and how it should, or could taste".
Linda McWilliams, co-owner and winemaker of San Pasqual Winery is also the President of the San Diego County Vintners Association (SDCVA). The SDCVA is a membership organization that supports and promotes the extensive winegrowing community throughout San Diego County. In other words, it is about the grapes and the grape growers. It will not surprise you to discover that Linda's winemaking style is about the fruit and to let the grapes do what they will. What they will, along with some help from a winemaker who is making a wine, that while not a direct copy of its Napa or Sonoma cousin, expresses something unique and original, in a very consumer friendly way. Interesting enough, one of San Pasqual Winery's largest selling wines is not made out of grapes at all. It is a primarily locally sourced Passion Fruit wine that was being produced before Linda and her husband Mike, purchased the winery. Linda has added her touch to this wine by adding some additional flavor options, including a version of their Roselle Passionfruit spiced up with Habanero Chile Peppers. This wine seems to appeal to the tourists who walk into their Seaport tasting room, looking for a unique item.
"If there hadn't been another Urban Winery a mile down the road, I wouldn't have done this", Zane confided to me. "You can now do a real winetasting in downtown San Diego going to real wineries that you can Uber between for less than five dollars. Having another local winery and having the San Diego Urban Winery group both is what helped make my decision to open an Urban Winery. This is a business for me, not a hobby or a retirement project, and a rising tide lifts all boats." He went on to explain the additional help he gets from being a member in the SDUW by saying, "Different members [of the SDUW] focus on different aspects of our industry. This allows me to focus on what I really care about, while knowing someone else is watching these other parts of the wine industry that I need to know as well."
The Urban Winery scene is alive and well, and in fact thriving in many locations. This segment of the new wineries being created, are being created by winemakers who want to produce something different. Not only in the unique styles of niche grapes, but also in the experience. Leading a counterculture on two fronts. One against the status quo of the wine industry where consistency and sameness reign supreme. The other, gently, against the consumer who's taste has been conditioned to like and know only what it has known and liked before.