As part of the Wine Media Conference (WMC) event sponsored by Travel Southern Oregon I was fortunate enough to get to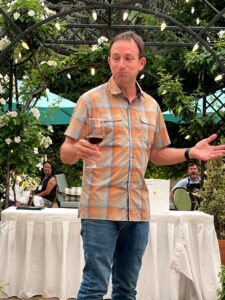 visit Weisinger Family Winery. The land where Weisinger Family Winery is located has been farmed since 1880. As a winery, the first vines were planted in 1978 (pictured above) are Gewürztraminer and were the brain child of John Weisinger. John was born and raised in Texas, moving his young family to Southern Oregon in the early 1970s to make wine. He constructed the winery in 1988, making wine until he retired in 1997, passing the torch to his son Eric.
Eric told us the story of how he helped plant all of the vines in the original block. He also shared that his Father was 100% sure that Gewürztraminer was going to be THE signature grape of Southern Oregon. So as Eric tells it, "My father was crazy, but became a pioneer". A pioneer not only for planting grapes there in 1978, but for also opening the first tasting room in the area.
That original block of Gewürztraminer vines has received no irrigation for the last 20 years, and at 40 years old they produce around 1.2 tons of grapes per acre. Eric shared some wine with us made with grapes from this block. Sadly you cannot buy this wine. The quantity of wine produced is so low that the available bottles for sale are quickly purchased. Fortunately Eric knows someone with access to the wine cellar…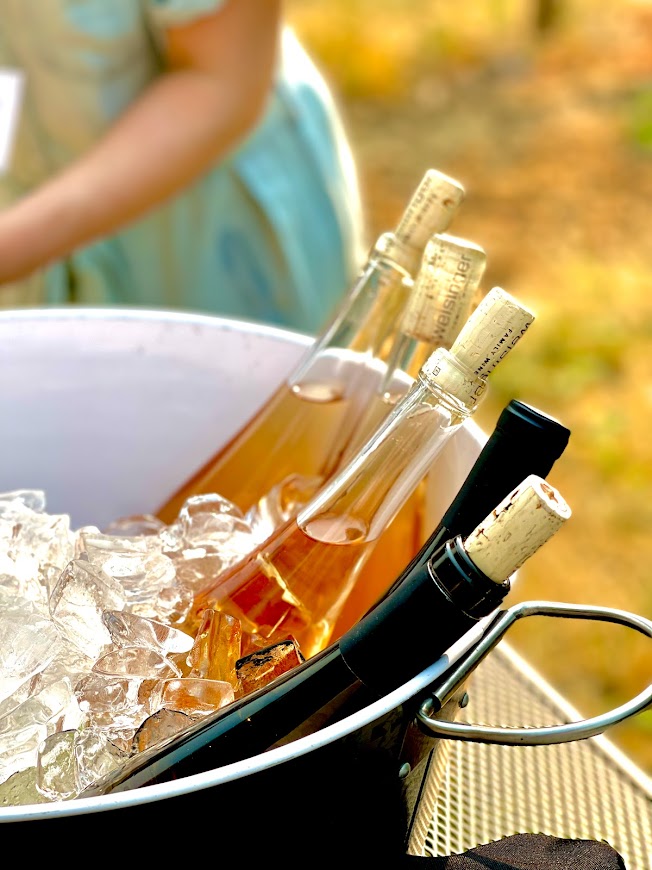 We had two wines here in the original block, a 2018 Gewürztraminer that had a $30 price tag, and his 2020 Orange Gewürztraminer that sold for $40. This Orange wine was aged in neutral oak.
There are additional vines growing around the winery and tasting room and as I recall many of these are Tempranillo that are used to produce their Estate Tempranillo, which they state is the flagship wine of their property and a fantastic example of the potential for Tempranillo here in the Rogue Valley. I would second that statement and really believe this may be THE signature wine for this region.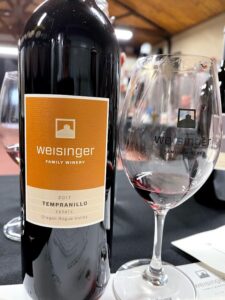 Before taking over from his father, Eric spent several years in the Marlborough region of New Zealand, where where he produced Sauvignon Blanc, Chardonnay, and Pinot Noir. Eric told us that winemaking is the art of intelligent compromise. He stated, "There are so many things you can't control, like the weather, you have to make good choices on those things you can control."
The 2018 Grenache is shown in the picture on the right.
This wine spent 6-7 days in a cold soak, allowing the water to softly extract as much color and phenolics as possible. This is done in a sealed container with dry ice. It then went through a 10-14 day fermentation in 1 and a half ton bins being punched down, Aged in 100% French oak.
This wine is the reason I'm planting Grenache in my vineyard.
Weisinger 2020 Roussanne. I love this wine, in fact my wife and I just shared a bottle the other day. The fact I shared any with her tells you how much I love her. This wine was whole cluster pressed, barrel fermented in mostly neutral oak. Really great acid and balance on this wine.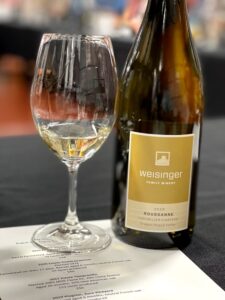 I really enjoyed my time with Eric and his team at the Weisinger Family Winery. The story, history, location, not to mention the wines, are top notch. If you have the opportunity they are a must see winery in the area.