In the 1550s, Priests in the Spanish colonies in Argentina planted the grape criolla grande near their monasteries to make communion wine. Three hundred years later a French agronomist named Michel Pouget was hired to create a nursery for grape vines to support the growing Argentine wine industry. This vineyard, named Quinta Agronómica de Mendoza, was created in 1853 and included the first French varieties to grow in Argentina. These varieties included cabernet sauvignon, cabernet franc, and malbec.
A mere thirty years later in the 1880s, a social dance was created in Argentina called the tango. The dance originated in lower-class districts in the Río de la Plata Basin, blending influences brought by the people from African and European emigration. The tango is a walking dance that expresses life, relationships, and love. It has been said that there are no wrong steps in a tango. What is important is how the couple harmonizes together.
Wine and tango have very similar roots in Argentina. Strong local history and traditions, greatly influenced by European emigrants. Wine and tango also have similar traits that allow them to be great. Blending, harmonizing, tantalizing, and amplifying each of its partners. Argentine wines and tango are also similar in the way they have spread around the world and have become beloved by passionate people.
In order to help understand these beautiful wines from Argentina, I was provided samples by Colangelo & Partners, an integrated communications agency, from one of their clients Grupo Penaflor. Grupo Penaflor is the leading wine-making company in Argentina with eight different wineries producing wines from many different grape varieties in many different styles. I was provided with two wines, a red blend from Trapiche and a Cabernet Sauvignon from Mascota vineyards.
Trapiche
Trapiche is located in Mendoza, Argentina at the foothills of the Andes Mountains. This winery was founded right around the time the tango was being created in 1883. Chief Winemaker Sergio Eduardo Casé uses grapes to make his wines from the more than one thousand hectares of vineyards that Trapiche owns, as well as those from three hundred plus independent growers in different areas in Mendoza. The Vineyards are all Bio-dynamic and managed by Marcelo Belmonte who has a master's degree from UC Davis.
The wine I was provided from Trapiche highlights the perfect blending, harmonizing, tantalizing, and amplifying qualities that are perfect in Argentine wines and tango. Let's talk about this wine.
Trapiche Medalla 2020 Red Blend
Pre-taste Thoughts
Reading the label of this wine provides some great information. The grapes for this wine are grown in Mendoza's Primera Zone, a premium growing area in the region. The vineyards are referred to as ancient and are irrigated by meltwater from the mountains using irrigation ditches. Three grape varieties are used for this wine, Cabernet Sauvignon, Malbec, and Cabernet Franc. It is aged in French oak, both barrel and in larger format foudres for 18 months.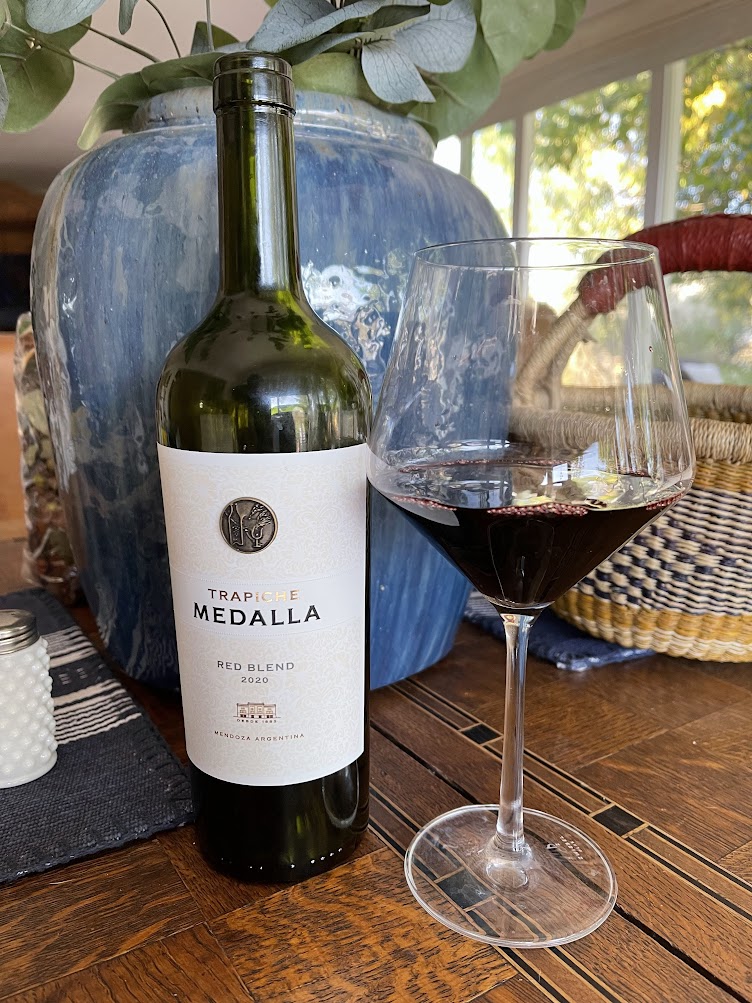 My mind immediately goes to old vines. I am expecting mature, complex, and interesting wine. The grape varieties tell me to expect black fruits with good acid and tannins. Large and small format French oak lets me know the wine maker want to balance the tannins, not overpower the wine with too much new oak.
Look
Deep inky purple with a bright edge shows no aging or oxidation. Legs show nice body.
Nose
The nose of this wine is complex with dark cherries, ripe plums, dried herbs, and tobacco.
Taste
This is really a wow wine. Well balanced with the acidity leading and finishing, supporting the tannins. Ripe red fruits on the tip of your tongue, pleading with you to take another sip. This wine is great to sip on its own, but holds up well with food, especially the grilled beef and vegetable stew I had with it.
Post-Taste Thoughts
What a wonderful biodynamic wine. I believe this wine supports my assertions about the relationship between Argentine wine and tango. This wine is a sensuous dance between the two partners of European grapes and Argentine terroir. They support each other, they complement each other, and they showcase each other just as two master tango dancers. You should find this wine and take it for a spin around the floor.
One other fact you should know about Trapiche is that it is a top travel destination, it has been nominated and has won many travel and tourism awards. Its restaurant, El Espacio, offers both three and eight-course pairing options for lunch and dinner. I can't wait to visit them in person.
Mascota Vineyards
The second wine that was provided to me as a sample by Colangelo & Partners was an Unánime Signature Cabernet Sauvignon produced by Mascota Vineyards. Mascota Vineyards are located in two wine regions of Mendoza, Argentina. One at the foothill of the Andes Mountains in the Uco Valley, and the other in the region of Maipú. Their Master winemaker, Rodolfo "Opi" Sadler, has gained great distinction in his expertise in crafting wines from Cabernet Sauvignon.
Unánime Signature Cabernet Sauvignon 2019
Pre-taste Thoughts
Many cabernet sauvignons that I have had from Argentina have been high alcohol and a little flabby. I quick read of the back label makes me believe this will not be the case with this wine. 14 ½% alcohol is listed which makes me believe this wine will have some nice acidity. We are also told that this wine has spent 14 months on French oak. So I'm expecting integrated tannins.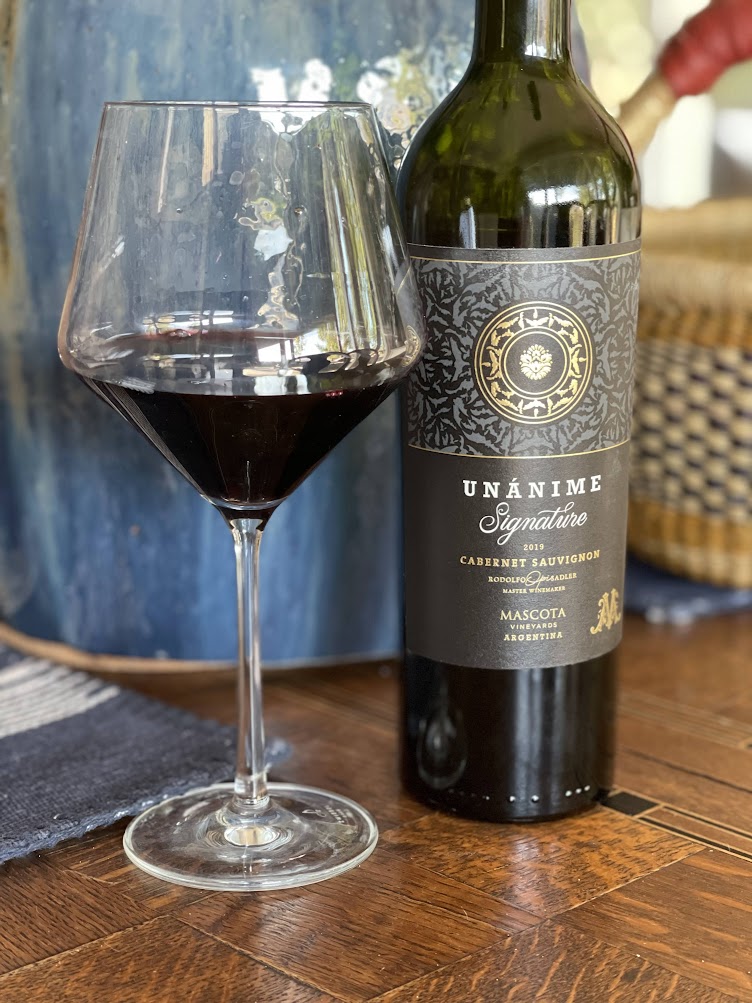 Look
Warm ruby color with a translucent rim. Thick, slow legs letting me expect a generous mouth feel.
Nose
Mint and fresh crushed herbs, coco powder, light dust and mineral, and light oak were all revealed. I love the nose on this wine, it makes me want to dive right into it.
Taste
Ripe red juicy berries burst in my mouth as the wine hits my tongue, leading into balanced tannins and coco nibs in the mid-palate, with black cherry on the finish. What a well crafted wine with just the perfect touch of oak to keep it in balance.
Post-Taste Thoughts
My first thought after a taste was more please. I am seriously impressed with this wine. Impressed enough I looked to see where I could purchase more in my area. This wine is carried by Total wine in the Reno Nevada area for $39.99.
I want to thank Colangelo & Partners for providing these samples to me. These wines inspired me to think about the dances these vines and the people of Argentina have weaved around each other, creating a tango of the grapes that is spreading around the world. Bravo.
Below are some additional stories on the wines of Trapiche and some amazing food pairings.