As a blogger about the wine industry, I pay attention to trends and stories in the news about the wine industry. One trend that is constantly in the news is climate change and how it will affect the wine growers and wineries. A quick Google search of climate change and wineries shows 47,200 results in the news section alone. Well, 47,201 now. The majority of these stories predict doom and gloom due to climate change for the growers, grapes, and humanity in general. I suggest weather is a much bigger concern for them.
I will make you a bet that not a single wine grower woke up this morning, looked up at the sky and thought, "I hope that global warming stays away today". Especially if those farmers are in Europe where frost hit the vines with devastation this past week. I'm not saying they want the warmer weather, I'm simply saying that dealing with weather is something farmers have done ever since humans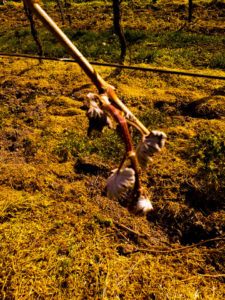 stopped being hunter gatherers. Every farmer I know has always has something to say about the weather, it's too hot, too cold, too wet, too dry. I can count on one hand the times I've heard one say the weather couldn't be more perfect. When they talk about climate, it is generally a discussion about what grows where best, if it can grow there at all.
I'm not debating whether weather is being made less predictable due to the change in climate, I'm showing faith in the resilience and ingenuity of the world's farmers who feed us, clothe us, and thank God, pour us a glass of wine to celebrate Earth Day.
Photo Credits:
Cover photo Marc Thompson
https://www.facebook.com/marc.thompson.545?fref=ufi
German Frost Maria Ka
https://www.facebook.com/kamin.hexe?fref=nf
Not that climate change isn't a concern for us or the growers, it is, but I would submit that it isn't the biggest challenge of wine growers today, or even for the next decades to come. Modern farmers are using techniques to maximize yields while minimizing environmental impact. This just makes sense to them, keeping production costs down and increasing profit. So every year they are measuring, what worked and what didn't. Each year they make slight corrections in what they have done in past years. Everything from when they water, to what vine clones they replant with, to when they pick. In other words they are already adjusting to combat the changes in the climate, in fact their father's father's father were as well.