Spain has many wine regions that all produce high quality wines at an affordable price point, however if you have a palate similar to mine, Rioja red wines stand out. Especially their Gran Reserva wines which are among the best value deals of a longer aged wines available in the world today. Rioja wines are generally Tempranillo based which is Spain's number one grape. In my post I am going to help you understand what you are going to taste in your glass based on what is printed on the label. I have selected 3 wines from Bodegas Montecillo to help me tell this story.
Geography
Rioja is in a valley located in North Central Spain that follows the Ebro River and is close to the Basque region on the border between Spain and France. Each of the 3 regions in Rioja (Alta, Alavesa, and Oriental (previously known as Baja), have unique geographic differences including whether the breeze in the Ebro valley is cold from the Atlantic Ocean(Alta) or warm from the Mediterranean Ocean(Oriental), and the elevation of the vineyards with Alta being roughly 300m higher than Oriental. Generally, this means the wines of Rioja Alta have more acids and tannins than those of Rioja Oriental. You can think of Rioja Alavesa as Rioja Alta, just on the north bank of the Ebro River.
Montecillo's wine are from Rioja Alta so I'm expecting a well-balanced but higher acid wine.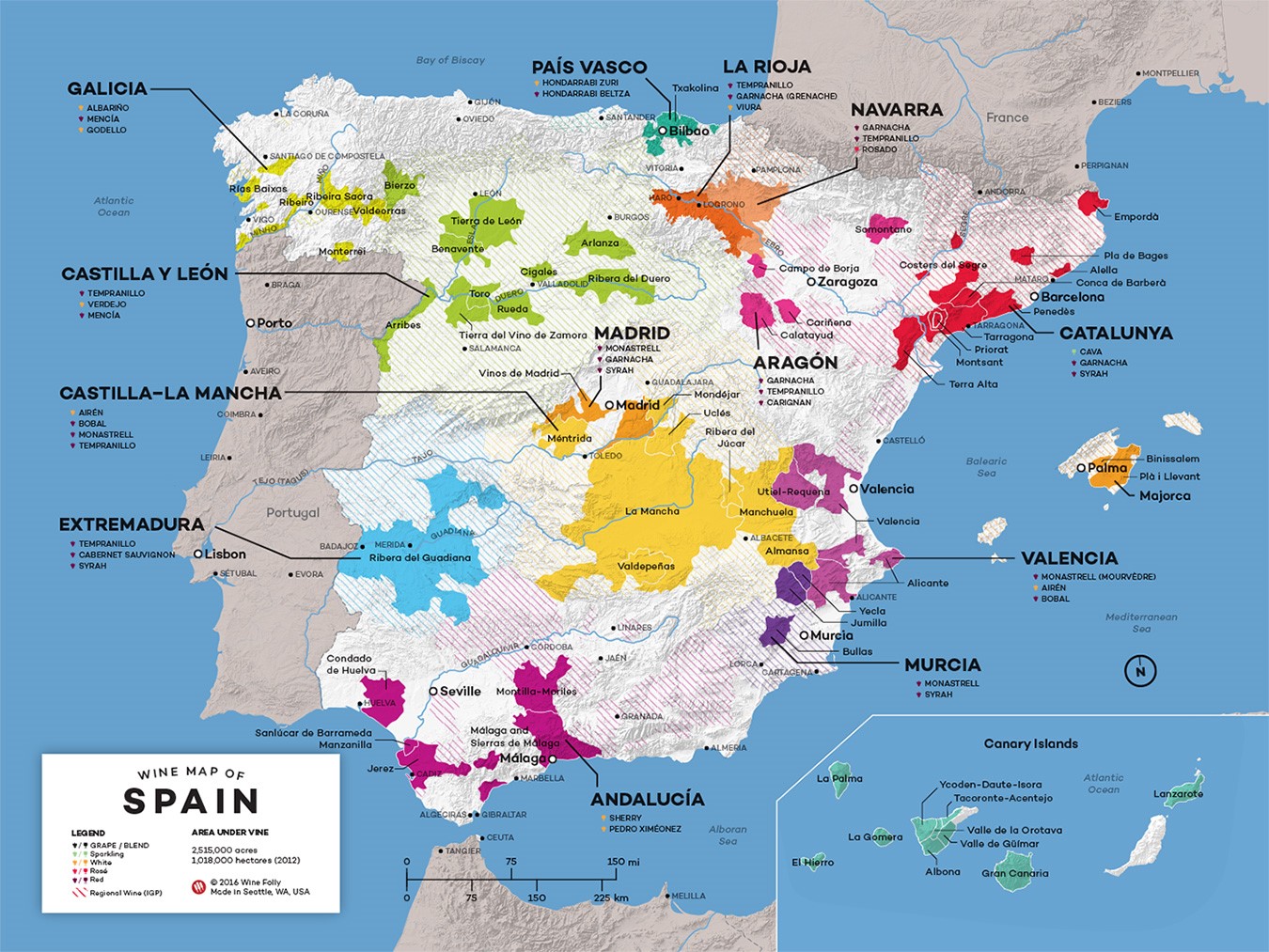 Map Of Spain's Wine regions by Wine Folly
Naming Methods
Many wine drinkers get intimidated with the terms they see on bottles of wines. Don't get overwhelmed when shopping for Spanish wines, Spain leans towards many "new world" win styles and ideas. One of those ideas is naming a wine by the actual grape's name, or variety like Tempranillo. Other naming methods you may see on a label include the region, in this case Rioja, or some made up name like the wine being named for the winemaker's dog, or by the wine style, Fino in Sherry is a good example of this. I'm going to list all of the label options you might see below in some detail, but don't get overwhelmed, I'll provide a summary "cheat sheet" for the important items of this wine.
Variety
Most of us understand different varieties of grapes, so we feel confident grabbing a bottle of wine that tells us what grapes it is made from. Spain has over 400 native grape varieties that may not be commonly recognized, but the majority of Spain's wines are made with 20 grape varieties we all know. Better yet, the only red grapes allowed for Rioja are Tempranillo, Garnacha, Mazuelo (the local name for Cariñena), and Graciano. If a single grape variety is listed, 85% of the grapes used must be that variety.
Region (Appellation)
Wine regions or zones in Spain are known as Appellations and will generally have an appellation status listed as part of the region's name. Spain has 69 major wine regions you may find on the label, and each of them generally will have different region (appellation) statuses listed with them.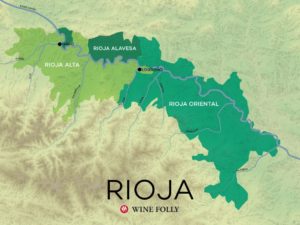 There are 3 regions in Rioja as I mentioned in the geography section, Alta, Alavesa, and Oriental. These regions can only be shown on the label if 100% of the wine is made from grapes grown, aged, and bottled within the region. It isn't unusual that wines from Rioja will only carry the larger appellation name Rioja on the bottle even when it could have included a smaller region. This is due primarily to the consumer's lack of name recognition of these regions.
Appellation Status
I am only going to list the terms you may see on a label of "quality wines" from Rioja, not the lower basic quality wines classified by the EU as "table wines" as few of these will be exported. However if you get the opportunity to try any of these wines I encourage you to do so as you may find some really unique regional flavors. The restrictions, the quality, and price, go up for each of these classifications. They are listed from lowest to highest.
This is the lowest category for Spanish Quality wine. This classification was created for new or up and coming regions to be able to sell a quality wine while establishing themselves.
This is the most common classification with more than 60+ wine regions. Items regulated at this level include: varieties allowed, crop yields, planting, harvesting, vinification, and aging. After 10 years at this level a DO may apply to become a DOCa
Introduced in 1988, only 2 DOs have established this status, Rioja and Priorat. These wine regions have shown superior quality as a DO for more than 10 years.
Introduced by the 2003 wine law, this classification is reserved for estates with excellent reputations that may or may not be within a DO or DOCa. If the estate fall within a DOCa, it may call itself a Vino de Pago Calificado. There are few producers using this classification at this time as consumers have better recognition of DOs and DOCas than these specific estates. Over time consumers will discover these specific estates and they will gain name recognition.
The wines I'm reviewing are all Denominación de Origen Calificada wines.
Municipality
The name of a municipality can be applied to a wine when the wine is made from grapes grown, aged, and bottled 100% within the municipality. The label will include the words 'VINO DE' followed by the name of the municipality.
The wines I'm reviewing have a town name on them, but this is the location of the winery and listed as part of their name, not being used to set their wines to a specific place.
Viñedo Singular
The term 'Viñedo Singular' is used for a location which is smaller than a municipality, located within the DOCa and identified by a name. It consists of a location with characteristics that distinguish it from others in the area and from which wines with unique traits and qualities are produced.
Aging Classifications
The age classification should be clearly shown on the bottle of any DO (Denominación de Origen) or higher appellation wines. The traditional terms you will see most often include Joven, Crianza, Reserva, and Gran Reserva. Traditionally Rioja has used American oak barrels that imparts a strong vanillin flavor, but we are seeing more French and Hungarian oak barrels being used by winemakers in Rioja today to create a more refined finish.
For red wines, Joven means young. These wine see little to no time in oak and are made to drink now. Crianza wines must spend at least 6 months in barrel and have a total of 24 months aging before release. Reserva wines must spend at least 12 months in barrel and have a total of 36 months aging before release. Gran Reserva wines must spend at least 18 months in barrel and have a total of 60 months aging before release. DOCa wines have slightly higher time in barrel requirements. It is possible to get a Rioja Gran Reserva wine at major retailers in the United States for less than $25. $25 dollars for a wine aged 5 years is an unbelievable value, and may make you want to splurge and get a $40 dollar bottle!
Other Terms
There are some additional "legally available" terms a winery can use and you may see on a bottle of wine from Rioja.
The term "old vines" or "old vineyards" means the age of the grape vines grapes are 35 years or older.
The term "centenary vineyards" can be used if the age of the grape vines are 100 years or older.
The term "pre-phylloxera vineyards" term can be used if the grape vines wine were planted before 1900. Phylloxera was first discovered in Rioja around 1914.
Fun fact, Rioja's wine quality was helped when wine makers from France located there after their vineyards were destroyed by phylloxera.
The term "vineyards of height" can be used if the minimum altitude of the vineyard is at least 550 meters (1800 ft) above the sea level.
Label Cheat Sheet
The importance of being able to read a label is to be able to have a ballpark idea of what the wine "should" taste like without the need to take a foreign language course. Wines, especially old world wines like Rioja that are controlled by the rules of their appellation status should produce a specific style of wine, year in and year out.
First cheat I have is to look for a wine with Rioja Denominación de Origen Calificada, or DOCa on the label. This will ensure a consistent quality of the grapes, the winemaking, and the aging.
Second cheat, understand the level of aging you like. If you haven't tasted the different types, my tasting notes below may help you discover which you might prefer.
The third cheat, look at the alcohol level. Typically higher alcohol wines are from warmer areas and will have lower acids.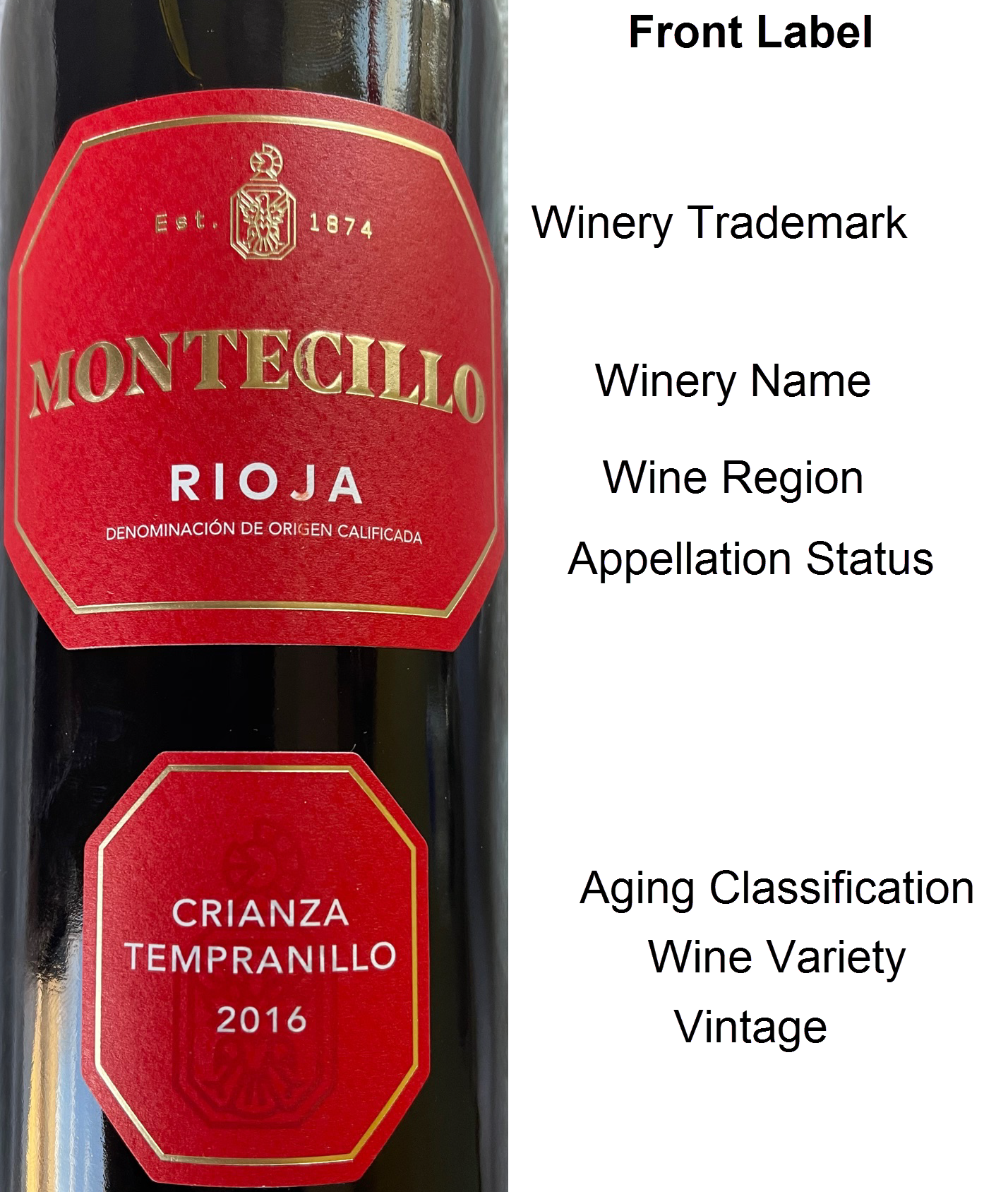 Front label of Spanish Wine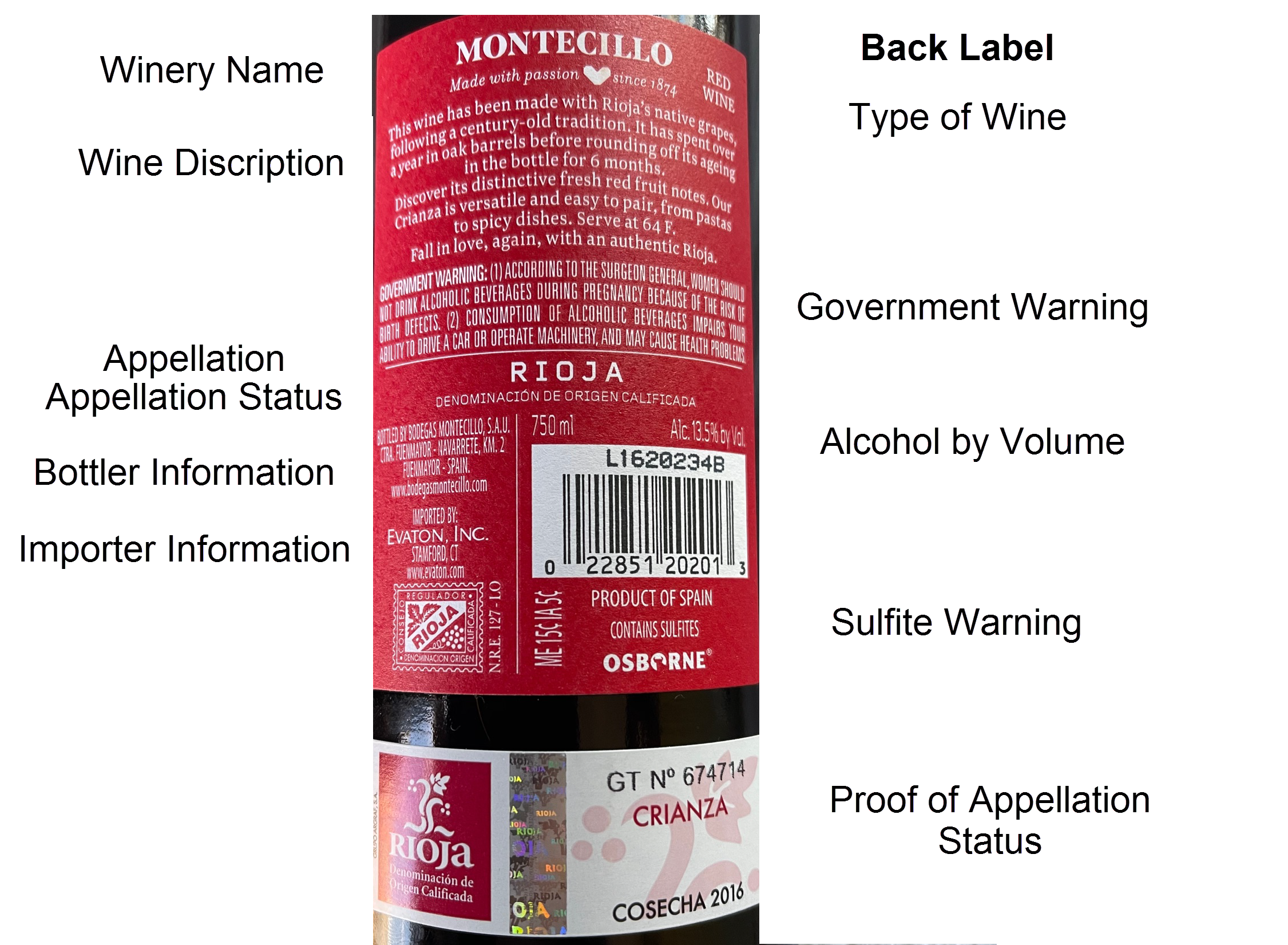 Back label of Spanish Wine
Montecillo Rioja Tasting
To highlight the differences in Rioja wines as they are aged, I purchased 3 different bottles of wine at full retail price from Total Wine. All of these bottles are from the same producer, Bodegas Montecillo, and the same grape, but each aged by the DOCa requirements as listed above. My expectations for how these wines would taste were set by my understanding of the region and the information found on the label. I knew there were tasting notes on the Montecillo's website but I intentionally didn't read them until after I tasted the wines so I wouldn't be tempted to cheat my taste buds into believing they were tasting something that I was thinking about, not what they were really tasting.
While the bottle only lists Tempranillo, most wine producers provide tasting notes for their wines. These tasting notes can be very detailed including when and how the grapes were picked, some wine making techniques used, and other useful information.
Montecillo Rioja Crianza, 2016 $12.99
Montecillo Rioja Reserva, 2013 $21.99
Montecillo Rioja Gran Reserva, 2010 $34.99
I am expecting to taste a wine with red fruits, light bright wine with nice acids and tannins. A easy drinking wine. Maybe a little more mature or integrated because it is 4 years old.
I poured this wine and watched the bright pale ruby colored liquid flow around my glass. As I swirled it I could tell it is a light bodied wine that left some light tearing on the glass, another indication of its lighter body.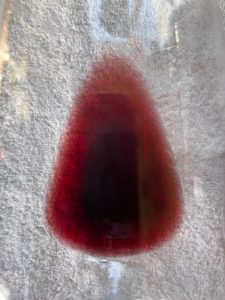 As I put my nose to this wine, I immediately had bright red fruits with some dusty earthiness. The red fruits were tart cherries and raspberries. The dustiness I picked up seemed like that smell you get in a sunny straw field after it has been cut and bailed. More dust than vegetable. There are little signs of oak on this wine.
Red fruit forward with more tart/under ripe red raspberries or even cranberries. This wine is listed at 13.35% alcohol, but it seemed to be higher than that to me. This wine has high acids and rough tannins that are not completely integrated. The tannins seem to be grape heavy and the acids bright and tart giving a long finish that ends with more tannins and some minerality.
This wine would be much better with some food. I would really like to have a chicken parm with it. The proteins would help bind some of those tannins and the acid in the wine would hold up really well with the sauce. Really nice wine, and will get better with a little more time in bottle. The tasting notes let me know that 15% Garnacha was added to the Tempranillo, each was fermented separately, the Tempranillo using the Ganimede technology ( I had to Google this). Malolactic fermentation done in underground cement tanks, and the Tempranillo aged for 18 months in one and two year old American oak. I would have expected more oak on the palate based on that and I believe based on past tastings that the dustiness I perceived was from from the cement tanks.
I am expecting a deeper more complex wine with nicely integrated tannins with some punchy acids. Still expecting red fruits. I'm expecting a nice drinking wine with more body than the Crianza.
This wine showed its age as its garnet colored liquid hit my glass. That isn't a knock, this is a 7 year old wine and I would expect it to be showing some aging. This wine shows more viscosity with thick, lazy tears and a more sluggish swirl in the glass.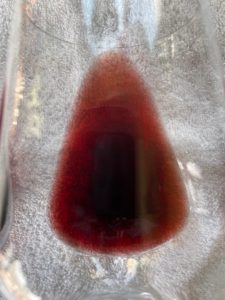 Red fruits right away, but more muted than in the Crianza. Think red cherries that have just been rinsed in water or black cherries. Not a cooked fruit. If you could imagine that straw field I mentioned above, now just think about being only a step or 2 away from the tree line. There are some additional vegetative notes on the nose. There are also more oak notes, Vanillin, cinnamon and some general earth notes that create a nice rounded scent.
Wow. Still big tannins and lots of acid, but they are balanced tannins that are well integrated. It feels like 60/40 grape to oak tannins but the acids smooth them out even more. The oak on this is fine, soft, and refined adding an earthiness that doesn't overpower the tart red fruits.
More. I really want more of this wine. This falls right in my wheelhouse of wines that I want in my glass. Fruit forward but not cloying, complex and well integrated oak treatment, nice bright acids to provide a long finish I don't want to end. There were no tasting notes posted for this wine. I have reached out to the producer to see if they are available and will update this if they are.
This is a 10 year old wine and generally on the edge of being too "aged" for my tastes. I'm hoping the life that I have seen in the Reserva at 7 years means this 10 year old wine will be bright and fruity.
This wine is still a garnet color, but shows more oxidative aging around the edges. There aren't legs in this wine, more like a sheet. It is a unique phenomenon I haven't seen much but promises a smooth full mouth feel. As I swirl the wine I can notice the tawniness as the wine thins against the glass showing the oxidative aging.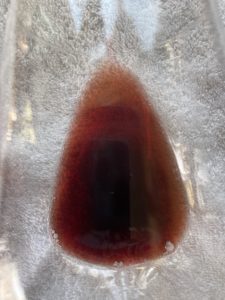 Fresh prunes and simmering tomatoes. This is a complex nose that has high and low notes, acid/alcohol and rich earthy savory notes including some game and smoke. Slight oxidative notes but I am very sensitive to these. Some old oak/baking spices, and to continue my straw field comments above, 3 steps into the woods with forest smells.
This is earth and herbal forward not fruit forward, but there are some fruit notes here. I love a good Manhattan with a Luxardo cherry in it. That is the cherry I taste in this wine. Bitter, in a good way dominates this wine. Earth, clay and limestone, clove and other baking spices with long soft tannins that seem French to me and are fully integrated. Good acid balance creates a long finish.
This wine hit what I thought. It was right on the edge of wines I think are "too old" due to my taste. I did/do like this wine, however I prefer less oxidized wines. The tasting notes on Montecillo's website are for the 2011, one year younger than what I tasted and the data may not be exactly the same, however… Generally producers keep a basic formula that might vary +/- 10% so I'm going to use these tasting notes for some comments that should be close to what the 2010 was. This wine's blend at this level of aging is 92% Tempranillo as opposed to the 85% of the Crianza wine. The Grapes selected for the Gran Reserva are from 35 year old vines, which are aged for 28 months in oak, 90% French and 10% American, creating a different oak profile than we saw in the Crianza.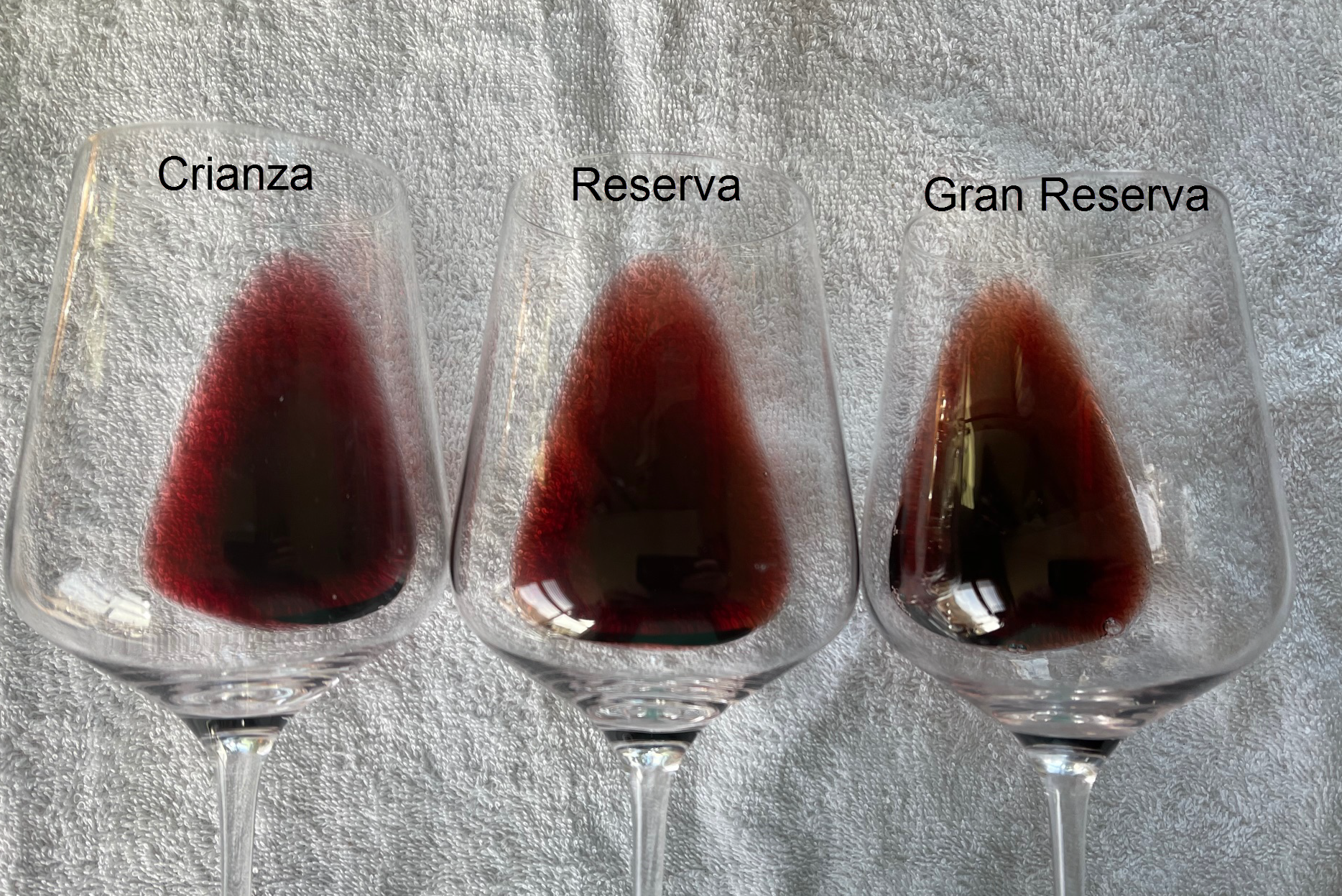 Side by side Montecillo Rioja comparison
There was no doubt in my mind, or my mouth, which of these wines was older. I was able to understand the age of these wines with my aging eyes, just by reading the label. What I read on the label directly aligned to what I tasted with a few minor nuances. I feel confident when I select another Rioja wine I will be able to select my favorite age classification (mine is Reserva) and have a great idea of how that wine will taste and I hope I have helped you with this as well.
Join our Rioja Wine Day chat on Saturday January 22nd at 10am Central Time. We chat at #WorldWineTravel on Twitter, we hope you'll join us!