As part of the Wine Media Conference (WMC) event sponsored by Travel Southern Oregon I was fortunate enough to get to visit Cowhorn winery and vineyard. Cowhorn is a Biodynamic winery and farm located in the Applegate Valley in Southern Oregon.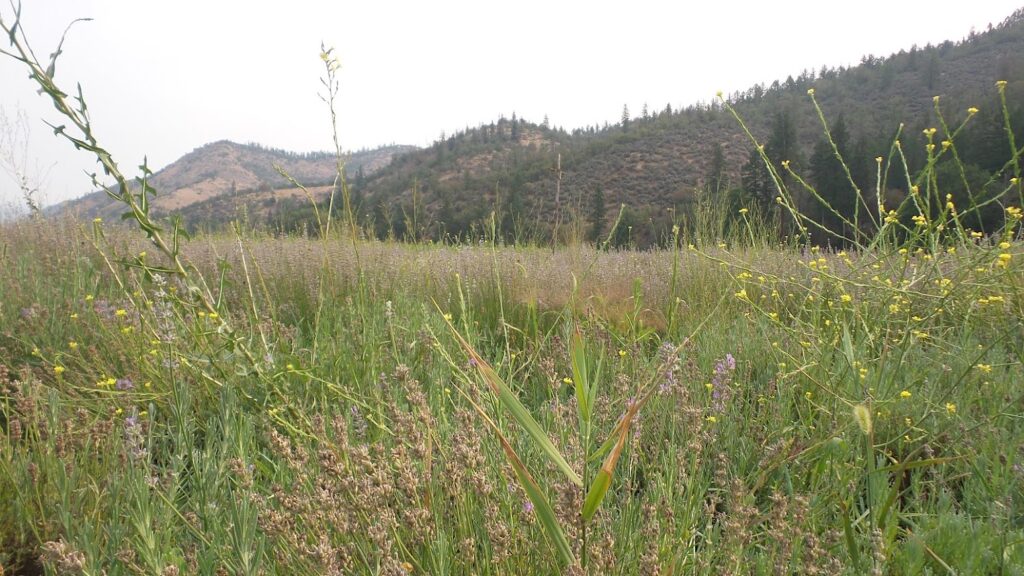 Mini Banks and her partner Grant Gustafson purchased Cowhorn winery from Bill and Barb Steele who founded the Biodynamic winery in 2005. The property has 117 acres with 25 of those planted in vines. The vineyard is planted with mostly Rhone varietals including Syrah, Viognier, Roussanne and Marsanne, along with Grenache.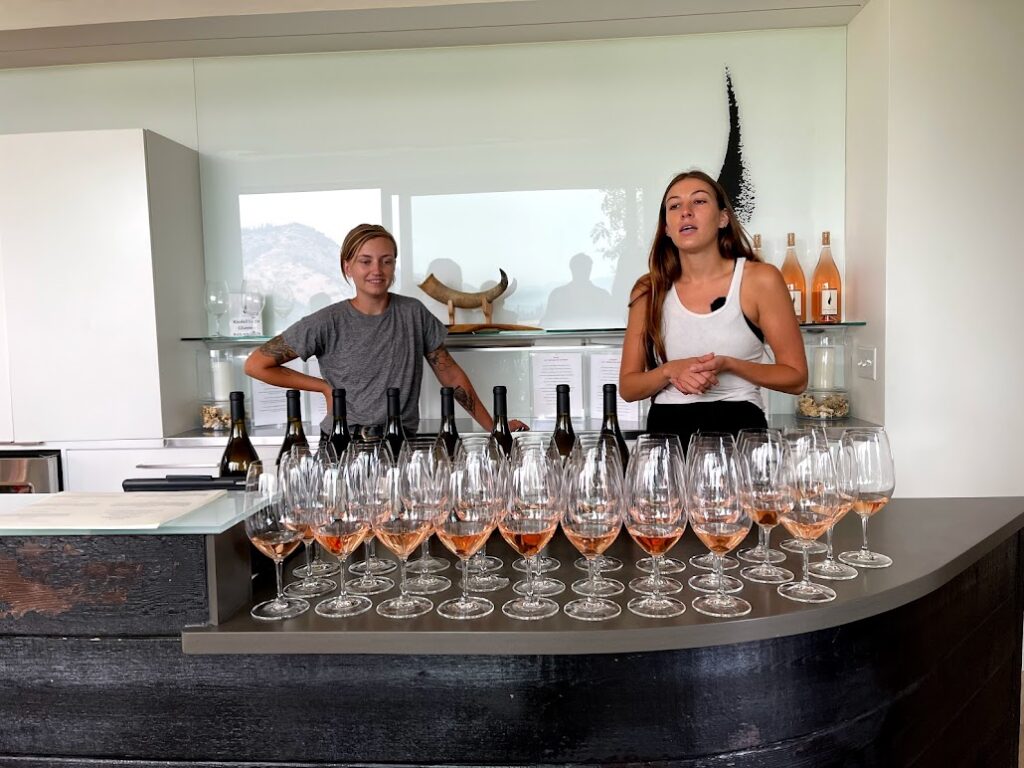 Mini and Sarah are standing behind the first wine we tasted, a 2020 Grenache Rose. This wine spent 6 months in neutral oak with partial malolactic fermentation, softening some sharp acids and providing a great mouth feel. You can see the legs in the picture below, this wine has great structure.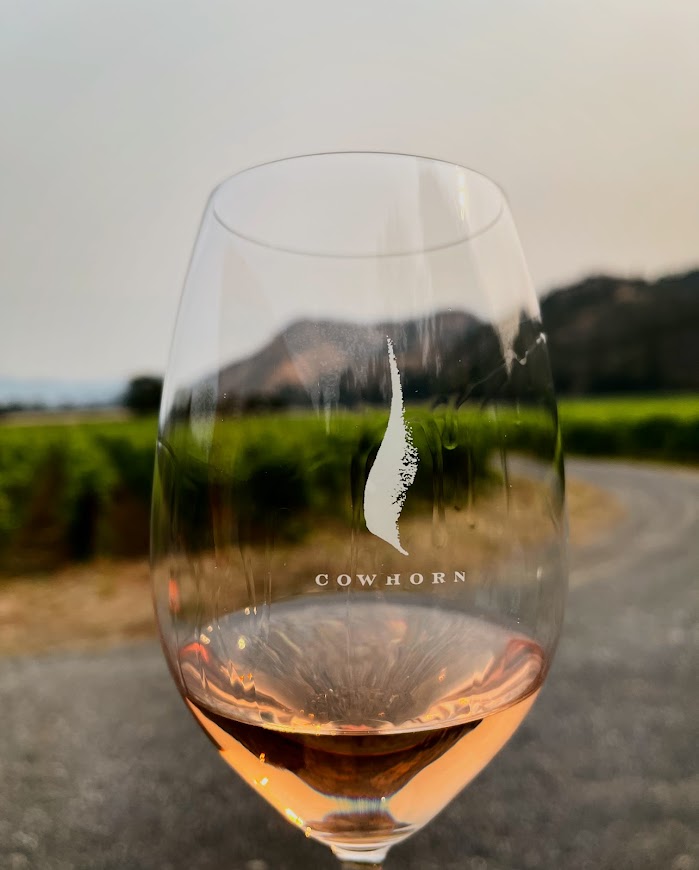 Sarah was the assist winemaker at Troon Vineyard which is also a Biodynamic vineyard, prior to joining Cowhorn. Here you see Sarah standing next to a head trained Grenache vine in what was discussed as an Easter basket due to the vines being trained to look like a basket handle. We were told that head trained Grenache does better with winds than when trained to a trellis. This part of the Applegate Valley gets strong winds every day, typically in the late afternoon.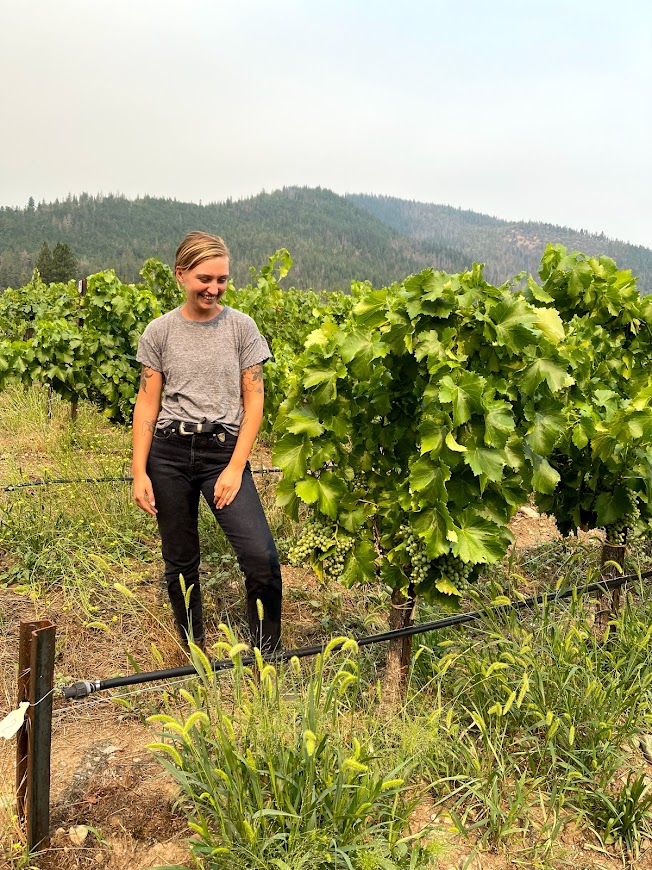 One thing that will make any wine writer excited is a barrel taste.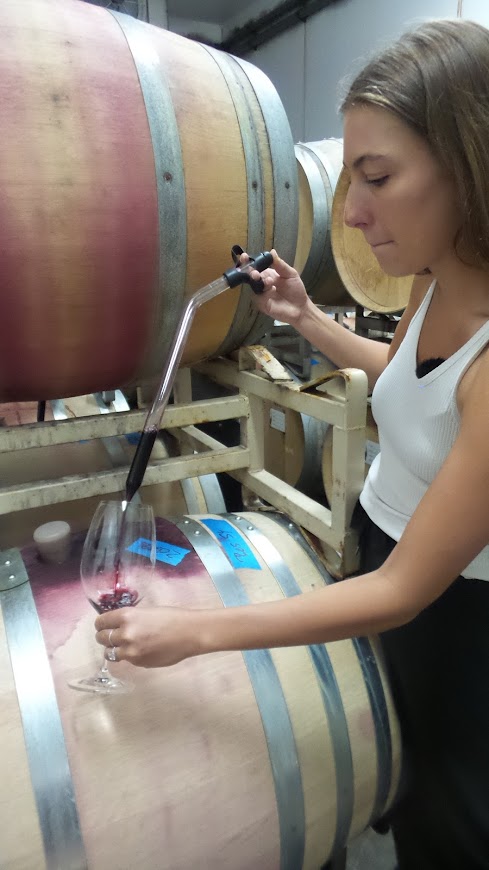 Mini was really concentrating on getting the wine from her thief into my glass. If you weren't aware, wine thieves are glass or plastic devices used to extract samples from wine barrels for the wine maker (and sometimes wine writers) to be able to sample the wine. This is something that can/should be done every few weeks while the wine is aging.
This wine is one of the first wines that has been made by Sarah since Mini purchased the property. The wine in this barrel is a 2019 Reserve Syrah, that should be in bottle now resting until it is time to be sold.
The wine making philosophy or style that Sarah has and will be using at Cowhorn is a low intervention style of winemaking. Using little new oak, most barrels being on their 3rd use. She also allows the wines to use natural fermentation.
Another wine we were able to taste was a lovely Rhone blend. The 2020 Spiral 36 is a blend of 20% Viognier, 45% Roussanne and 35% Marsanne. This wine is co-fermented using native yeasts in 20% new French oak. This wine is then aged on lees for 6 months before bottling. This wine was an amazing example of what Biodynamic combined with this Southern Oregon climate can do with Rhone wines.
Fun Fact, the Syrah leaves from Cowhorn are used to wrap Rogue Creamery's Rogue River Blue. This is the cheese that was World Champion at the 2019/20 World Cheese Awards. I know, I never knew there was such a thing as a World Cheese Award either, but now I want to go.