In the extreme Northwest corner of Spain lies the land of Galicia, the land of the sea, of wine, and of Troubadours. This month's #WorldWineTravel takes us to Green Spain and the wine region of Rías Baixas.
I was fortunate enough to be taken (virtually) to Rías Baixas by DO Rías Baixas for a visit so I could see, smell, and taste the region. Rick Fisher, Spanish Wine Programs Director for Wine Scholar Guild, along with Stephanie & Trish from Gregory+Vine were our hosts that showed us the region, the people, the food, and the wine.
The Region
Photo courtesy of turismoriasbaixas.com
Due to its green fields and rocky coasts, Rías Baixas appears more like coastal Ireland than most of Spain. This is one of the reasons it is known as "Green Spain". The region is characterized by moderate year-round temperatures, ocean mists and nearly 3 times the average annual rainfall found in most of Spain. The area is dominated by the sea with the coastline containing many firth-like inlets (known as rias), capes, and archipelagos. Rías Baixas is Galician for "Lower Rias," and refers to one of the four major estuaries. A steep river system including the Miño River and the Ulla River flows from the mountains to the Atlantic Ocean and the Cantabrian Sea. As you can see water dominates this region and helps keep it green.
Map of Rias Baixas courtesy of riasbaixaswines.com
DO Rías Baixas has five sub-regions:
Val do Salnés – This is the oldest sub-region with the most area under vine and is known as the birthplace of the Albariño grape
Soutomaior – the smallest of the sub-regions in the hills above the Rías de Vigo.
Condado do Tea – named after the River Tea, this is the second largest sub-region and is one of the warmest and driest regions.
Ribeira do Ulla – The newest Rías Baixas sub-region
O Rosal – Located along the Miño River where it joins the Atlantic Ocean, many of the vineyards are terraced on the banks of the Miño.
The People
Photo courtesy of doriasbaixas.comGalicia has two official languages, Galician and Spanish, both of them Romance languages. Today there are 2.4 million people who speak Galician, which it was historically a dialect of Portuguese. Around the time the Cistercian monks arrived in Rías Baixas in the 12th century bring more refined winemaking, Galician grew as a language of culture and was used to create a musical poetry called cantigas, or 'songs'. Bernal de Bonaval was a Galician troubadour active in the 13th century and was known at the courts of both of the Kings of Galicia of that time, Fernando III and Alfonso X, between the years 1231-1284. Of all the songs he is believed to have written only 19 have survived to this day, including his Cantigas de amor or song of love. It is a cantiga composed of four stanzas of three verses each, of which the third is a fixed verse that reaffirms a general conviction. In this case, his conviction is that God grant him death rather than not having his love returned.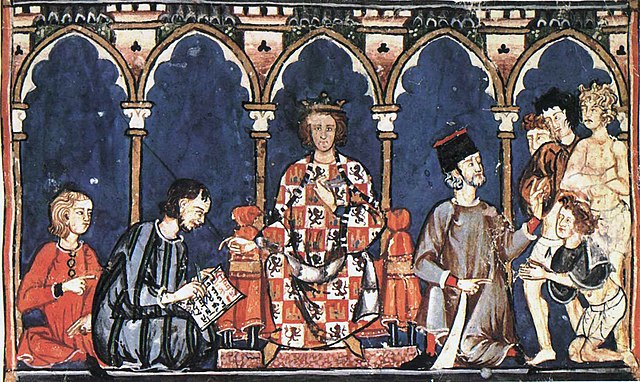 The lady that I love and have as my Lady,
My God, show it to me, that's how you do me favor
if not, give me death.
The one that I have for the light of these eyes of mine,
that cry incessantly, show it to me, my God,
if not, give me death.
The one that you did to look better
of all how many there are, make me see her
if not, give me death.
The one that you made me love more than me,
show it to me, oh my! because I can talk to you,
if not, give me death
Many of these Galician-Portuguese cantigas are of lost or unrequited love, some in a male voice and some in a female voice. I can tell you if Bernal de Bonaval were writing a cantiga today it would be about the love of the wines from Rías Baixas, and that love would be returned tenfold.
The Food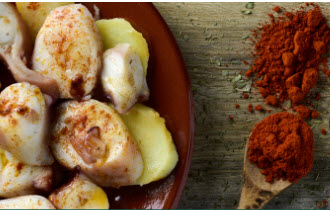 Seafood dominates in this region of Spain. Regional favorites include Pulpo a Feira (Market-Style Octopus), Mejillones al Vapor (Steamed Mussels), and Cocido Gallego (Galician Stew).
Pulpo a Feira is Galician style octopus and is the most iconic dish in the whole of the region. It is a layer of thinly sliced potatoes, topped with boiled octopus and sprinkled with paprika.
Galicia Mussels are so special, they even have their own protected designation of origin (PDO), called Mejillón de Galicia.
Caldo Gallego is a hearty stew that seems to include any type of land animal, (beef, pork, sausage), beans and greens like turnip tops.
There are many other amazing foods in this region including a specific cheese named for its shape. Steak, from a type of cattle known as the Galician blond. And green peppers. If the green peppers sound boring, you should know they have their own festival and these Padrón peppers have between 500 to 2,500 Scoville Heat Units on the Scoville Scale. This means some are mild and some have quite a bit of spiciness and the only way to tell them apart is to taste them. If you are getting the picture in your mind that is a destination any epicurean would love to visit, you would be correct.
Disclaimer
Full disclosure, these wines I'm describing were provides to me as samples from Gregory+Vine promoting their client DO Rías Baixas. I was provided 3 different Albariños from the region. These wines were sourced from 3 different wineries in the region:
Martín Códax
Señorio de Rubios
Fillaboa

The Wine
Terroir
Pergolas in Rías Baixas Photo courtesy of doriasbaixas.com
Grapes
DO Rías Baixas allows 14 grape varieties to be planted, but the reality is 96% of the grapes planted are Albariño grapes and 99% of the wine produced is white.
DO Rías Baixas allows eight types, or styles of wine:
Rías Baixas
Rías Baixas Albariño -100% Albariño, grapes can be sourced from any sub-zone
Rías Baixas Salnés
Rías Baixas Condado
Rías Baixas Rosal
Rías Baixas Barrica – wines aged in oak, can be red or white
Rías Baixas Tinto – red wine, less than 1% of all production
Rías Baixas Espumoso – sparkling wine, limited production
Winemaking Trends
There are several trends that are very "New World" like that are being used in Rías Baixas.
Pre-fermentation maceration is now being used with Albariño grapes in a "cold soak" to increase the wine's aromatic complexity and structure.
Wild yeast. Many winemakers are using native yeasts found in their vineyards for fermentation to create a "more authentic reflection of the characteristics of the Albariño grape and their terroir".
Barrel aging is not common, but is happening, adds complexity, flavors and structure.
Extended contact with the lees is a very common practice in Rias Baixas and is a technique that is constantly being perfected by winemakers.
Bodegas (Winery) Martín Códax Albariño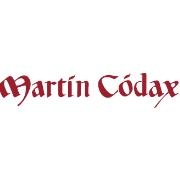 It is interesting that I had started putting my post together well before I was aware of the wines that were being provided as samples. Martín Códax winery is named for one of the most important Galician troubadours of the Middle Ages. I guess I was motivated to write about a strong influence in this region.
Martín Códax is located within a couple of kilometers of the Atlantic Ocean, in Cambados Spain, in the sub-region of Val do Salnés. Most of the grapes are grown in more than 300 small family plots that produces small yields and are provided to the winery by a Co-Op. Winemaker Katia Alvarez takes these grapes and vinifies them in small batches in different types of fermentation vessels including concrete eggs, wood, and stainless tanks, trying to discover the best way the wines can be expressed. The majority of the wines from Martín Códax that you may find in your local store will have had the fermentation done in Stainless steel tanks with no aging.
Pre-taste Thoughts
Thanks to our tour guides on our virtual trip I had some additional information to add to my knowledge bank on Albariño. I am expecting a high acid, light bodied, big citrus wine. That seems very basic, but it is a prototypical Albariño profile.
Look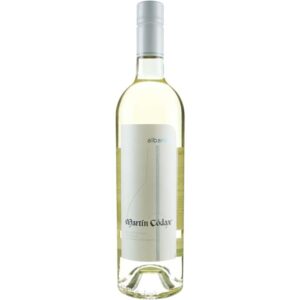 Clear bright pale yellow in the glass with a little bit of effervescence. Bubbles run up the glass and gather in the bottle.
Nose
Big fresh lemon and sea breeze. Lot of salinity. My mouth is watering just with my nose in the glass.
Taste
The nose doesn't lie with this wine. Strong lemon juice bright flavors and an underlying minerality that is much more complex than salt. Nice long finish that just draws you into taking another sip.
Post-Taste Thoughts
I looked at the tasting notes after I had tasted the wine and feel I hit the high points of this wine. The Citrus dominated the nose and while I went back and re-checked the nose I got basically the same results even with the hints I was given on the tasting notes of "Floral notes predominate (hawthorn, jasmine and orange blossom)". I'm saying they are not there, just covered by citrus. I believe anyone who drinks a Sauvignon blanc but likes nice tart citrus would love this wine.
Bodegas (Winery) Fillaboa Albariño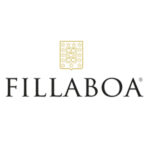 Bodegas Fillaboa is one of the largest wine estates in Galicia, surrounded by the Tea and Miño rivers located in the sub-region of O Rosal. Fillaboa, whose name in Galician means "good daughter", comes from a local legend with many
similarities to the tail of Cinderella. With a medieval bridge, a 1,600 meter stone wall, a garden of camellias, olive trees, magnolia trees, and cork oaks, along with 74 hectares of own Albariño vineyards, it certainly lives up to the fairytale. This winery also has a female winemaker, Isabel Salgado de Andrea. This shouldn't come as a shock as we learned that 51% of winemakers in Rías Baixas are women.
Pre-taste Thoughts
Rubber stamp my previous Albariño thoughts here. Well with a few caveats. I'm expecting the acid to be a little lower due to the warmer temperatures and a smaller diurnal temperature shift. This should also cause the alcohol to be a little higher. Warmer days should also provide some different flavors than just citrus.
Look
Clear bright pale yellow in the glass with a little bit of effervescence. Yes, I copied that line from above, because it is true!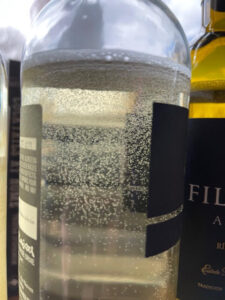 Again with the effervescence. I do not recall this as being a "standard" or "normal" with Albariño, but I generally like this in a wine. Especially with a higher acid wine it makes it feel fresh and alive in your mouth.
Nose
Lots of citrus and some tropical fruits like mango with less minerality.
Taste
Nice high acid with more Grapefruit and lemon pith that fresh juice or peel. There is a nice mouth feel to this wine that has more body than most Albariños I have had. Makes me wonder if it had gone through any malolactic fermentation.
Post-Taste Thoughts
After tasting I took a look at the tasting notes and I now understand the question I had on the mouth feel. I obviously forgot the winemaking trend I wrote about above on leaving the wine on its lees. Leaving the wine on its lees in the tank before bottling does two main things. First it protects the wine from oxidation, keeping it fresh and bright until it is in the bottle. Second, it can add more body to the wine, providing a nice mouth feel. This is an Albariño that is closer to a Viognier and again is a good option for someone looking for an un-oaked light white wine.
Bodegas (Winery) Señorio de Rubios Albariño

Bodegas Señorio de Rubios is located more inland in the sub-region of Condado do Tea. Being further away from the sea, it has a warmer more continental climate with less rain. While we are tasting an Albariño, this winery was created by a hundred partners who were looking to promote the red Rubiós wines. Their philosophy on their website states. "Our philosophy is based on recovering and maintaining the essence of the same old wines, the ones that the winemakers in this area of ​​O Condado have made since ancient times", they also state that they do not reject new ideas and wine styles, including sparkling wines and rosés. I appreciate a progressive attitude of augmenting your history, not replacing it.
Pre-taste Thoughts
As with the other wines, I'm thinking it will taste like an Albariño. Clean, bright, citrus, high acid. That being said, this wine is produced inland away from the cooling effects of the sea. Like the previous wine, I expect that the warmer temperatures and a smaller diurnal temperature shift should cause the wine to have less acid. I would expect the salinity of this wine to be far less, being inland. The bottle shows the AOC to be at 12.5% so it may have been picked early before full maturation of the grapes and the phenolics. If so then I might expect more green apple malic acid.
Look
Nice bright yellow in the glass with a little bit of effervescence. There are some greenish tinges when light hits the glass. Seems light bodied.
Nose
Peach. The first big aroma was peach and then a vegetative almost grassy smell. I would think Sauvignon blanc except I knew I was drinking an Albariño. I just keep sticking my nose into my glass, this is so interesting.
Taste
Savory saline peach. So nearly all of my preconceived notions about this wine were shattered with my first sip. The Salinity added to the peach flavor like spices in a pie. That alone may have added to the savory part, but there was an herbal note that I could never pin down that added to this incredible blend of flavors that were so integrated.
Post-Taste Thoughts
If you are looking for a prototypical Albariño, well this is not that. Of the wines I tasted today, it may be the wine I am most interested in finding and drinking again, and it definitely makes me want to find some of their red wines too.
Conclusion
I want to thank Rick Fisher, Stephanie, and Trish again for a lovely visit to Rías Baixas. I really enjoyed learning about the unique region of Spain and hope you enjoyed taking the journey with me. If you want to continue your trip in Rías Baixas then you should look at some of these other #WorldWineTravel posts.