When asked why he chose to open an Urban Winery, Zane Mumford, Co-owner and Co-winemaker of Négociant Winery, said, "Growing sucks. Farming is hard, and I wanted the ability to create wine that could express itself, without carrying the risk of growing the grapes myself."
"When I was doing research for my business plan [on opening the winery] I would simply show up at a winery, no appointment, and see if I could talk to someone. I almost always was able to. Their generosity was amazing. There really is a lot of collaboration among winemakers." Zane explained.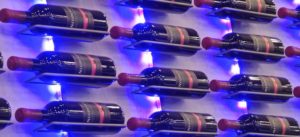 "I haven't always been in the wine business, my work history is from a very large corporation in the Information Technology field where this type of co-operation just doesn't exist, even within the same company. It was very dog eat dog and I hated it. So while making a move into the wine industry may seem strange, it really isn't. Winemaking is fun science." Zane said with a boyish smile and a look that let me know he was sharing a real passion. "I have beakers and thermometers, and all kinds test equipment back there [that] I get to play with…I really want to make a clean wine."
I ask what he meant by that statement, "Clean Wine"? A clean taste? A clean finish? "Clean equipment." Zane said. "I was shocked at the condition some winemakers left their equipment. Dirty, contaminated equipment can cause a muddled, off taste to the wine due to bacteria." Zane went on to provide some additional insight to the winemaking art by saying, "Many issues in wine can be corrected, too acid, too tannic, too much sugar, or too little. The problem is you can start chasing your tail trying to get ahead of something that will generally fix itself if you are patient enough to leave it alone and trust that you haven't introduced something into the process that is detrimental."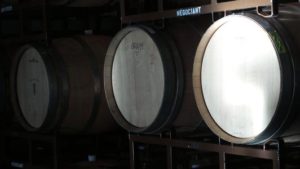 "We make a commercial product. We use grapes that we source to get the best fruit possible. We then use a known commercial yeast that is going to give us an expected result. Now we can decide if this is a wine that we want to put on oak or not. If so, what type of oak?" In some back and forth banter on this point Zane admitted to having made a mistake by ordering and using some Hungarian Oak that was reported to be the same as French Oak.  According to Zane, It wasn't. "It was way too tannic." Zane stated. "I may be able to use them after they age, but it just shows not everything you try is going to work as expected."
When asked what goal is, Zane commented, "I want my customers to be surprised. Surprised at how good a wine they can get that is made right here. We are able to bring it [a winery] to the people so they can have a real winery experience right here in the city. Not only that." Zane went on to say, "People can do a real urban wine trail tasting. They can travel to several wineries for no more than a five dollar Uber fare between them."
Zane explained the financial impact that the booming microbrew business is having on San Diego. "San Diego is a great beer town. It might shock you to find out that San Diego's brewery week now brings in more than Comic Con." He further added, "Studies show that wine does well where breweries do well. There are 18 microbreweries within a one mile radius of my winery, if there weren't, I wouldn't have opened it [his winery] here. A rising tide lifts all boats."
So when I asked Zane, "What would you like to do that even you think is odd?" His answer? It surprised me because I didn't expect a non-wine answer. What he said was, Sake. Yes, I know it is rice wine, but it is really brewed more like beer than processed like wine.
"When have you ever had craft sake?" Zane asked me. "You can't just go to Costco and buy rice and start making sake, it is a whole different process," he said. Zane looked thoughtful as he said, "My license allows it, maybe someday." Someday indeed.
What Zane and his co-owner John Rinaldi have added is a coffee bar. Grinds and Vines Coffee bar is located right inside Négociant Winery. "It seemed like a perfect fit for us." Zane said. "We are a neighborhood business. Now we can provide a high end coffee experience along with our high end wine experience. The coffee bar also provides the kitchen where our food is prepared. This gives us the ability to provide more than a cheese plate. We also provide some of our wines on tap, and our customers can have a growler filled to go. We really want to provide a morning to evening experience."
I was thoroughly impressed. Not only with Zane, his philosophy and beliefs, but the amazing wines he is turning out of the facility that shares parking with a Batteries and Bulbs store. As I tasted each of his wines I just kept thinking wow, what a great wine. Wine after wine after wine.
If you live in, or find yourself in San Diego, be sure to put Négociant Winery on your agenda, and save some space in your checked baggage for a bottle or two, or you can arrange to have them shipped.
Négociant Winery
2419 El Cajon Blvd Suite B
San Diego  CA 92104
North Park neighborhood
www.negociantwinery.com/
619-535-1747