I had the opportunity to visit Lisbon Portugal a few weeks ago and knew before I even took off what I was going to do while I was there. I had to taste their wines. Anyone who knows me is not shocked by this statement.
Lisbon is an interesting city, I was really pleased with my visit, even though I really only had one day to explore and indulge in my "drink around the world" hobby.
Let's talk about the city a little bit to begin with. Lisbon is/was a shipping and fishing town that sits on a large river outlet, protected from the Atlantic Ocean. Very old world architecture, cobblestone streets, fountains and piazzas, cathedrals, and many amazing restaurants and wine bars tucked into tiny backstreets.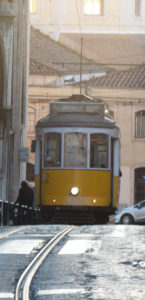 Nearly everyone I ran into spoke English well, and they were super polite and helpful. I walked for miles and miles in the city spending most of my time in Alfama . Wear good shoes and get ready to climb some hills if you want to see some amazing vistas, although you can ride the famous streetcar that can negotiate the narrow streets.
Enough about the city, let's talk wine. I'm going to talk about some specific wines, but first let me give some overall impressions. First, the wine is very inexpensive for the quality. Think Trader Joe's or Grocery Outlet prices for really well-crafted wines. Second, know that Port wines and the rest of Portuguese wines are distinctly different. Third, Portugal has maintained more of their traditional grape varietals than most wine regions have.
The next wine was a Bartolo 2012 from Vinho Regional Lisboa. This was as local a wine as we were going to get here in Lisbon. Really nice full bodied and drinkable red. It was less memorable than the others, but I think the gin and tonics (that seem to be the drink of Lisbon), that were forced on us pre-dinner may have had something to do with that as well…
On my one day to explore, I made a beeline to one of Portugal's official tasting rooms located in the

Praça do Comércio in Lisbon. The tasting room offers a dozen or so wines from different DOCs in Portugal. You can purchase an access card with as many Euros as you wish, insert the card into one of the wine dispensing machines, and dispense your taste. The wines run the gamut from rich Ports to the light Vinho Verde and everything in between. If you play your cards right, or am a wineo like I am, and you stick around long enough, some wines run out and they replace them with different new wines. So you get bonus selections about the 12 you started with.
Before you ask, yes, I tasted them all. I won't try to call any out by name here as I was tasting too many to really give fair tasting notes or scores to any of them. General impression? I like 60-70% of them, and fell in love with their green wines (Vinho Verde). I spent a few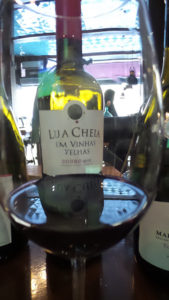 hours tasting, looking over the plaza just enjoying life. All good things come to an end, good things meaning the Euros on my vending card, and it was time to check out some of the other sites of Lisbon.
I made it about 100 feet before I stopped to taste some Ginjinha. Ginjinha is a portuguese liqueur made by infusing ginja berries, (sour cherry) (Prunus cerasus austera, the Morello cherry) in alcohol. This could be a headache in the making. Very sweet, very tasty. I avoid the splitting head by heading up the street to climb some hills.