Ahhh… to be Greek! When you think of being Greek, do you think of swilling wine with the Gods, debating with philosophers, or basking in a sun soaked villa? Well, whichever you think is right, you are right, because being Greek means all those things, and more. Opa!
Truth be told, I'm not Greek. However I have, mentally at least, discussed republics with Plato, flirted with Eros, and swam in the bluest waters known to man, and I felt like I was doing all of those things at the same time while wine tasting some of the wines that you will be able to taste at the Reno Nevada Greek Festival held at St. Anthony Greek Orthodox Church, August 18th ,19th , and 20th.
I was privileged to get a preview tasting of a few of the wines that will be available to the general public at the festival, thanks to Sierra Nevada Imports. Sierra Nevada Imports specializes in importing organic, small production, Greek wines. Owner, Shaji Mathew poured some of these unique wines for us, and while I must admit that I do not have a lot of experience with Greek wines, I am now motivated to taste, drink, and learn more about them.I have a red wine palate. I'm only telling you that, because I'm using our Children of the Grape LOST wine scoring method. This method is based on, "do you like the wine or not", not is it a good wine for the style. So my expectations were that these wines, especially the white wines would score low for me. Take a moment to read the blog post on this method, but if you are in too much of a hurry, I'll give a summary. You score the wine from 1 to 5 on 4 criteria. Look, Overall, Smell, and Taste.
The first wine that Shaji poured for us was Nopera Roya's Muscat de Frontignan from the island of Samos. All their fruit come from their organic vineyard which has less than 10 acres. This winery is located on the Aegean Sea, close enough for a non-Olympic swimmer, like me with pool floaties, to be able to swim to Turkey.
My tasting started with a big yum. This wine is a clear wine with little tint. Gorgeous. So for look I gave this wine a 4 out of 5. After a nice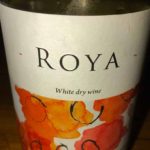 big swirl of my glass, I shoved my nose into the glass and smelled a wow. Fresh, bright, citrus, and floral notes that were just amazing. I gave it a  4 out of 5. I tasted this wine letting the aroma wash over me and wanted more. I gave it a 3.5 out of 5 for taste. Overall, this wine is a 4 out of 5  for me. This is a perfect Sauvignon Blanc replacement that you can uses to impress your friends, letting them know you know more Greek than yogurt. This wine retails around $22, a great value.
The next wine was a Rose'. I know I know, pink nation, Rose's are so hot right now… I should just give it a 5 and step out of the way of the Rose' juggernaut, but no, I have a reputation to uphold. The wine, a 2016 made by Yannis Papargyriou who is a garagiste winemaker from Corinthia. He was trained in Germany's high mountain vineyards making razor sharp whites, rosés and full bodied reds. This shows even in the bottle style he chooses for his wines. He is gaining a cult following in Greece and abroad. His wines are now selling out before they are even bottled.
This Rose' is created from the Agiorgitiko grape, all free run juice with no skin contact, gives this wine its great color. Again, this is an organic winery and the clean taste comes through. I have never tasted this grape varietal before, so this taste was all new for me. This wine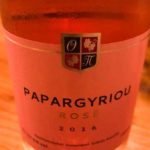 has a really nice, rich, inviting Rose' color, call it a 4 out of 5. The smell was clean, pleasant, and a 3 out of 5 for me. Now the taste again came out better than average at a 3.5 out of 5. Overall this wine was a 3.5 for me, a better than average wine. With a $20 price point this wine has a huge value. I will also say that the females in our tasting group Loved this wine. I don't think any of us are shocked at this revelation.
The 3rd wine, and maybe my favorite was the 2013 Markovitis Xinomavro. Yeah, I had no idea either. Markovitis family has been producing wines in Northern Greece since 1972. Markos Markovitis is the young winemaker at the helm of this iconic winery in Naoussa. Again, this is an organically cultivated property using all gravity flow. All grapes are hand destemmed and sorted. This 100% Xinomavro wine is the only wine produced by this estate. This wine is Incredibly ageable, but I don't know if it would last long enough to get old in my cellar. This 2013 vintage was awarded 90 points by Parker, for those of you who are wine point snobs, and care about such things.
This wine could pass as a Pinot Noir in any Pinot flight I have ever tasted. The look at this wine was a 4 of 5, nice ruby color that screamed drink me. Good swirl and sniff gives me a 3.5 out of 5.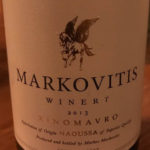 Intriguing different smells from the Xinomavro grapes. I brought this wine to my lips and was not disappointed. I scored this a 3.5 out of 5. Overall I'm scoring this wine a 4 out of 5. This wine retails around $26. If you like Pinots, find this wine. I'm not kidding, I'll wait for you to get back.
Wine number 4. Are you tired yet? Don't be, these are some really interesting wines coming up. KITRVS winery, is located in Pieria in lower Macedonia at the foothills of Mount Olympus. Kostas Garypidis, their winemaker, is an extremely young and ambitious winemaker and rising star in the Greek wine world. They have been gaining recognition for their Aglianico, Malagouzia as well as Syrahs.
The wine that Shaji uncorked for us, is called LostLost Hellanico. This wine was playfully named LostLost Hellanico by the wine maker because the grape was first lost when the grape went from Greece to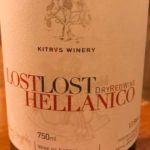 Italy. There it is known as Hellanico instead of its native Greek name Aglianiko. When KITRVS planted the grape in Pieria and requested the name Aglianico to be shown on the label as the varietal, they were denied. Hence the grape was lost the second time. This created the Lost Lost Hellanico grape, and KITRVS decided to stay with the name for their wine.
This wine was not my favorite. That isn't a knock on this wine so much as it is praise for the other wines we had as well as my lack of experience of this varietal. Aglianico (Hellanico) is a red variety that excels in Italy, but as we said, is originally a Greek varietal. The look of this wine was a nice color in the glass, a 4 out of 5. On the nose and the tongue it as an average wine to me, 3 out of 5. Overall I give it a 3. This wine retails at $22. A nice unique wine that will not find in your local wine bar. As a plus, this wine is really well balances and will pair with nearly any food. A true Swiss army knife wine.
Our last wine of the night was truly unique. Wines of Adam. Adams wines is an organic micro-winery in Northern Greece. Their Refoscos and Malagouzias wines are already considered standard bearers. They produce stunning wines and are destined to become a cult winery.
I want to set this tasting up just a little because the wine was so unique. Remember your first beer or cup of black coffee? It may not have tasted like the gift of the Gods that you now think it is. Well that is like this wine. Overall as a LOST wine score it is an average wine with a score of 3. Deep and rich the look got it a 4. The smell had a unique aroma that I couldn't quite pin down and made me wrinkle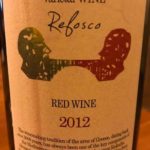 my nose a little. By my rules that makes it a 2. The taste was a 3+.  So only looking at the score, average, but it is so much more. I know if I were shipwrecked in this wine region for a few weeks I would become addicted to this wine and its unique flavor profile. If you don't believe me, get yourself shipwrecked at the Greek Festival and find out for yourself. It retails for $28.
As I have stated many times, I have an unapologetic California big red wine taste profile. Sue me, but guess where I'm going to be the weekend of August 18th through the 20th? That is right, trolling the wine bar at the Reno Nevada Greek Festival, held at St. Anthony Greek Orthodox Church. I'll be getting my Greek on, spraying Windex on every body ailment I have, and drinking some of the best wines I've tasted this year.