Fetzer winery hosted a few of us wine bloggers at their Bonterra Vineyard as part of an excursion before the Wine Blogger Conference (WBC17), and allowed us to meet some of the wine makers from Mendocino County in an event called the Inner Mendo Odyssey Panel.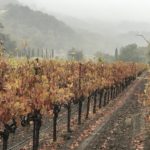 We started with a tour of the Bonterra, biodynamic vineyard and were privileged to be led by Joseph Brinkley, the vineyard manager. As we strolled through the dripping vines, smelling the earthiness of the dirt and fallen leaves, Joseph discussed the care he takes of the vineyard, but what I heard was the love he has for the land. I'm a big believer that wine, or at least our memories of wine, are made up of moments, people, and places where we experience them. My memories of Bonterra wines will always be of raw earth, love of land, and cool, overcast, rainy days that are tailor made for staying in the barn and tasting wine.
Below are the notes I took as we tasted our way through the rainy day, listening to the rain ping on the tin roof and run down the windows like legs in a really nice glass of wine. I apologize in advance for not being able to do these wines, and by extension, these wine makers justice with my words.
Idlewild Wines
Sam Bilbro is the owner, sole employee, and winemaker of Idlewild Wines. As Sam began to speak, you could feel any hints of shyness melt away under the passion of his story, his beliefs. Sam passionately believes that varietals from Italy's Piedmont area are underrepresented in California wines today. Sam seeks out uncommon old vine plantings in vineyards that have uniqueness, but most importantly, soul. Sam brought two wines that might be considered unique in general, but made with grapes grown in Mendocino County, made them uniquely unique.
2016 Arneis
If I had previously had a wine made with the Arneis grape, I cannot recall it. Arneis is a white Italian wine grape variety originating from Piedmont, Italy that some historians say has been growing there since 1432.  The 2016 Idlewild Arneis was not made with grapes from Piedmont, it was made with grapes grown on Fox Hill Vineyard in Mendocino County. The owner of Fox Hill, Lowell Stone, turned many trips to Italy into his inspiration to create a vineyard where he planted what he wanted to plant, what he liked to drink. This is a very bright, fresh wine. It has a lot of acidity that balances but does not overwhelm it. Lush flavors, think pear and peach, not tropical. This was fermented with native yeasts in stainless steel. As I said, I don't think I have had it before, but this will not be my last Arneis, and hopefully not my last Arneis from Idlewild, but with only 305 cases produced, I better get up there and pick some up.
2014 Nebbiolo
If you have ever had a paint stripper Nebbiolo, well that is not this. This is a, can I say it, gentle, delicate Nebbiolo. These grapes were also sourced from the above mentioned Fox Hill Vineyard. Remember, 2014 was in the heart of a deep drought in California and the harvest was in doubt. Fortunately the grape varieties that have been developed to withstand the hot dry weather, can you say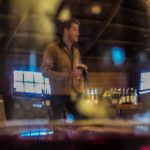 Nebbiolo, produced great depth of flavor in this weather. If you like natural wines, look no further. This wine was fermented using native yeasts and crushed by foot. Half of the grapes were destemmed before stomping, then left for an extended maceration for 90 days on skins. After this, this wine spent 2 years in neutral oak, a year in the bottle, and then my glass. How did it taste? It smelled floral, roses and cherries, but with some nice earth and spice. As I said, it was soft, but with a great fruit middle, sweet-tart, with very little astringency. As I'm writing about it, I want more. Only 145 cases of this outstanding wine, better hurry.
Rootdown Wine Cellars
Mike Lucia, owner and wine maker of Rootdown, learned
winemaking from the ground up after his family moved to Healdsburg just before his Freshman year of high school. Mike started Rootdown after years of making wine for other people, in 2014. He named his vineyard Rootdown, because he focuses on what the vines drink as opposed to what happens above the dirt. Mike believes in this so much, he puts the soil type and watershed on the label. His winemaking style is hands off, as he says, "you should taste the variety, not the winemaker".
2016 Rosé of Sangiovese
These grapes were sourced from Jane's Vineyard in Mendocino County. This wine was hard pressed to create as much acidity as possible. Mike doesn't care about the color, he looks for texture. The wine is then barrel fermented, no added sulfur, and is cold stabilized. This wine has low alcohol. I'm not generally a fan of rose. Well, to be honest, I'm not a fan of the idea of roses, I think because they have become so popular and many are too sweet for my taste. I figure if everyone likes something, can it be unique? This was. Really nice drinking Rose, I believe the acidity made a huge difference. The only thing that would have made it taste better would have been a sunny picnic spot.
2016 Sangiovese
These grapes were also sourced from Jane's Vineyard in Mendocino County. Mike fermented this Sangiovese as whole berry clusters, natural fermentation in oak fermentation tanks with no pump over. Once the wine hit zero Brix he moved it into stainless to finish and it was bottled in May. This is a different expression of Sangiovese than you are most likely used to. Very clean, not a lot of tannins, a very drinkable wine.
Reeve Wines
After years of creating great wine and wine experiences for others,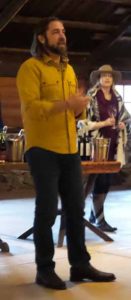 Noah Dorrance and his wife Kelly created a winery of their own and named it after their son Reeve. They founded it in 2015 to create balanced and elegant wines that pay homage to the beauty and possibility that California provides. Are you are starting to see a pattern with these wine makers in Mendocino County? I did too, and it is exactly what I believe, California provides everything needed to elevate wine to the next level, not just for California, but worldwide.
 2016 Rose of Pinot Noir
These grapes came from vines planted in the early 70s in Potter Valley that are now biodynamically farmed. Potter Valley lies inland around 1000 feet of elevation at the headwaters of the Russian River and sees temperature swings of 40 degrees, one of the highest in California. The wine was made using 100% whole clusters of the 115 and the Roederer 32 Pinot Noir clones that were hand sorted. Noah then fermented it in stainless to preserve the freshness and florals of the wine. I won't repeat my feelings on Rose, but I think it is time for me to admit I like Roses. This pink wine is not a colored weak wine. It has depth and dimension with unexpected flavors around each sip.
2015 McFadden Vineyard Riesling
This Riesling started as grapes growing on vines planted in 1971 in McFadden Vineyard. The grapes were hand sorted as whole clust
ers, fermented in stainless and 5% of the wine stored in neutral oak. The finished product has a residual sugar of 3g/l and a PH of 3. That PH really helps balance the wine, which is really important to me, especially with a wine like Riesling that can get very sweet for my tastes.
Lioco Wine
You would never expect a winery conceived in an alley behind Spago

in Beverly Hills to be non-pretentious, but non-pretentious is exactly what it is. Owned and operated by Matt and Sara Licklider, they produce wines from family owned vineyards focusing on those with older vines, interesting soil, and heritage clones. Sara introduced their wines and philosophy to us. They produce 15 wines with a total of 15 thousand cases, small scale craft wines to say the least.
2015 Lolonis Vineyard Redwood Valley Sauvignon Blanc
Who doesn't love a good Australian Sauvignon Blanc from Marlborough? I know I do, and that is why I have generally had a bias against California Sauvignon Blancs. If you are trying to mimic a style that has universal popularity, but you can't quite create the same taste and yours costs 2 to 3 times as much, why do it? However, if you can create your own expression of the varietal that shows the uniqueness of place, now you have my attention. Well Lioco wine has my attention. You know you will have something special when the vines were planted in 1942. This is a year before Robert Mondavi planted Sauvignon Blanc and are among the oldest known Vitis vinifera plantings in California. There is 0% Roundup in the soil of this vineyard. The vines are head-trained and dry-farmed organically and as you would expect production is low, about 1.5 tons per acre. Handpicked and whole cluster pressed, fermented in half stainless and half neutral oak, arrested Malolactic fermentation, and aged 9 months on the lees before unfiltered bottling. There are tropicals on the nose, but also herbals, it is earthy. Taste provides lemon, but also some nuttiness. At only 84 cases, I'm sure you are too late to try this vintage, better luck next year.
2014 Sativa Mendocino Carignan
This is another wine that has its start on historic old vines. These 70-year old, head-pruned, dry-farmed vines are located between 2200 and 2400 feet on the slopes of Cloverdale's Pine Mountain. Whole cluster crushed, fermented with a submerged cap for an18 day fermentation, then 9 months in neutral oak. I like Carignan, it is a tart quirky wine that I really enjoy. This wine was a treat.
Trinafour Cellars
Alex MacGregor took his father's advice and named his winery after the village in Scotland where their family came from. I believe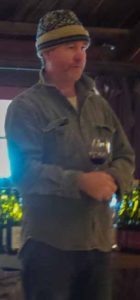 history, family, and tradition are a core in any good wine story. Alex movied to Mendocino County in 2002 and founded Trinafour Cellars after 15 years of making wine for others. Alex sources grapes from 3 different vineyards all of which have a common thread, organically dry farmed, yet also have their own uniqueness. The 2 wines Alex brought for us to taste were both from Casa Verde Vineyard.
2013 French Colombard Casa Verde Vineyard
74 years ago in the Redwood Valley 230 Colombard vines were planted intermittently among 10 acres of field blended red grapes, one of which is still unidentified. The older the vine, the smaller the production, these vines only produce a quarter a ton an acre. The fruit was whole cluster pressed fermented and aged in what Alex referred to as "ancient" French oak barrels that are at least 13 plus years old. This was a pleasure to try, another unique wine with old California history.
 2014 Rosso Misto Casa Verde Vineyard
Remember the 10 acres of field blended grapes I mentioned above? That is what is in this bottle. Along with the Colombard there are also Carignane and Grenache, and that mystery grape. These grapes are whole cluster pressed, fermented to 14.4% alcohol and a PH of 2.8. I love blends and this was a unique blend with grapes that aren't always found in blends, especially not when they are 74 plus years old.
Nelson Family Vineyard
The Nelson Family moved to Mendocino County in 1952, leaving San Jose where they were growing Plums and Prunes. Over the years, what they farmed changed and at some point they started growing grapes. In the 70s their grapes were known for their quality, but they were sold to others to make wine. That changed when the Nelson family started making wine in 2003. They are led by wine maker Chris Nelson, with the belief that "Great Wines are born in the Vineyard". That philosophy seems well in hand with brother Tyler being the farmer as well as the coordinator for special projects, such as getting the ranch organically certified as well as recognized for its fish friendly farming practices.
2015 Petit Verdot
Chris brought us a 2015 Petit Verdot to taste. Petit Verdot, as you know, is primarily a blending grape that can add a ton of color and backbone to a vintage that needs a little boost. As a standalone 100% varietal, Petit Verdot can be amazing, or seedy, tanic, and astringent.  Chris picks Petit Verdot when the seeds turn brown. This year when the seeds turned, the Brix was at 25. There was enough juice to put in 2 barrels and they ended up with 41 cases. I liked this wine. It is everything you want in a Petit Verdot with none of the negatives.
Campovida
Owners Anna and Gary moved from Oakland to Hopland in 2010 after discovering the land they now call Campovida, and make wines sourced from organic and biodynamic vineyards in Mendocino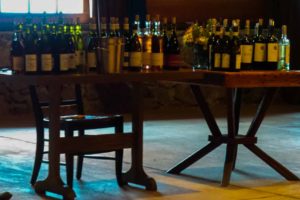 County. Adam Johnson is there wine maker. Adam comes from Sonoma, and when the opportunity to make wine at Campovida presented itself in January of 2017, Adam embraced the opportunity. Adam's style is a minimal intervention winemaking style, and is an homage to old world winemaking. He wants the vineyard to create, or force each winemaking decision he makes.
2015 Viognier
The grapes for this wine come from Campo dos Robles Vineyard located on the Campovida property, planted in 1995. The grapes were whole cluster pressed and fermented in stainless steel at 55 degrees with no malolactic fermentation. The wine was aged 5 months in neutral oak on the lees for increased mouth feel. I like Viognier. It finds a place on my palette between Chardonnay and Sauvignon Blanc, not too tropical and light, not too oaked. This was a nice expression of Viognier with some tropical on the nose, but peach and apricot in the mouth.
2014 Grenache
This Grenache was grown on the Dark Horse Ranch, a Biodynamic vineyard located along the upper Russian River at 750 feet of elevation. These grapes were handpicked September 5th after a dry year that left small berries with intense flavors. Destemmed and crushed into stainless and cold soaked for 5 days, hand punched down, and fermented to dryness with indigenous yeasts. A small fraction of the free run juice was placed in barrels where native malolactic fermentation took place. It was then aged 16 months in neutral French oak. Again, a well quality made wine with a unique flavor profile that shouldn't be missed.
Bonterra Organic Vineyard
Wow. Where to start with Bonterra, I could, and will, write a whole blog on what they do with sheep on their vineyard alone. For now let me tell you how connected they are to the land. Maybe that's what you would expect with an organic, biodynamic winery who was Wine Enthusiast 2016 American Winery of the Year, but you can taste the commitment, the land, in the glass. Jeff Cichocki is the head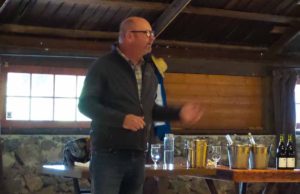 winemaker for Bonterra and has not only a wealth of winemaking knowledge, but is a funny engaging guy who has a passion for organic wines. One of his main points was it is possible to make organic wines at scale. If you don't think so, just look at what Fetzer and Bonterra do.
2015 The Roost Chardonnay
Located between the upper Russian River and a Blur Heron Nesting site, you will find the Biodynamic Blue Heron Ranch where these Chardonnay grapes are grown. 100% Chardonnay, whole cluster free run juice, 100% Barrel fermented, natural malolactic to whatever it does on its own, aged for 18 months in barrel. They produce between 250-500 cases of this wine a year. What a great expression of this varietal.
2016 Chardonnay
This wine is made from organic grapes from Mendocino County. This wine has a little Muscat and Viognier added to help keep a consistent, balanced flavor profile. 70% of the juice is barrel fermented in oak to allow malolactic fermentation and 30% in stainless to preserve the fresh fruit flavors. This is their commercial Chardonnay, they make 160 thousand cases of this wine that retails for $14 a bottle. Nice lite oaked Chardonnay with a lot of tropical notes.
2013 McNab Single Vineyard Cuvee
McNab vineyard is one of the original Biodynamic vineyards in the United States. The grapes for this wine are hand harvested over 2 weeks from the vineyard and used to produce 250 cases of this Bordeaux style wine. After blending the best blocks of each varieties, 66% Cabernet Sauvignon, 17% Merlot, 10% Cabernet Franc, 4% Malbec, and 3% Petite Syrah, fermentation is performed in stainless steel fermentation tanks. After this, the wine is aged in 100% French Oak, 80% new, for 24 months. One year in bottle, then we can uncork the magic. Wow what a big but elegant wine. I was really impressed with this wine, especially at the price point of $50.
2013 Butler Single Vineyard Cuvee
Once a Cherry Farm, the Biodynamic Butler Ranch offers extreme elevations perfectly suited for the Rhone varieties grown on this 900 acre ranch (only 90 used to produce grapes). The slopes of this vineyard add complexity to the wine by providing different exposures to the vines.  The grapes that go into this wine, 80% Syrah, 8% Mourvèdre, 6% Grenache, 6% Zinfandel, are handpicked over several weeks to ensure peak ripeness. Fermented in Stainless, aged in 100% French Oak, 60% new, for 24 months. That peak ripeness boosts this wine to 15.2% alcohol and an amazing taste.
There is one thought this tasting extravaganza reinforced for me and I hope you have learned. In whatever wine region you find yourself, look for the young guns, the rebels, the future legends and icons. As I took the group picture of the winemakers I felt like I was taking a picture of winemakers in the NAPA valley back in the 60s or 70s, young guns and pioneers. The people who would launch a new era in American wine. Those people, that spirit, is still alive and well in Mendocino County and hundreds of other locations. By supporting them, we can all be a part of the great American wine story.
A big thank you to Fetzer and Bonterra wineries for putting together this showcase of amazing Mendocino County Winemakers, cheers.