When I think of Spain, I think of history and romance, of Don Quixote, of the rain falling on the plain, of Spanish guitars, and of Hemingway.
There is a rough honesty in the words written by Ernest Hemingway as he points to a seemingly unremarkable moment and demands that you feel it as strongly as he. In Hemingway's "Death in the Afternoon", he wrote a passage lamenting, "If I (Hemingway) could have made this enough of a book it would have had everything in it". "Everything" includes his memories and feelings found in this passage," …the bare white mud hills looking across toward Carabanchel; days on the train in August with the blinds pulled down on the side against the sun and the wind blowing them; chaff blown against the car in the wind from the hard earthen threshing floors; the odor of grain and the stone windmills. It would have had the change when you leave the green country behind at Alsasua; it would have had Burgos far across the plain and eating the cheese later up in the room; it would have had the boy taking the wicker-bound jugs of wine on the train as samples; his first trip to Madrid and opening them in enthusiasm and they all got drunk…"  If you have ever traveled through an agricultural area that grows grains, I'm sure when you read those lines, you felt the sun and the wind, smelled the grain and dust, and tasted the cheese, and especially the wine. I have never traveled to Spain, yet I feel as if I have memories from the trip I took there with Ernest as we traveled together across the region we are discussing this month, Castilla y Leὀn.
Castilla y Leὀn
This month's installment of #WineworldTravel takes us to the breadbasket of Spain, Castilla y Leὀn. Castilla y Leὀn is the largest autonomous wine region in Spain and is home to nine wine regions including Ribera del Duero, Rueda, Cigales, and Toro. This area has agricultural areas of roughly 5,783,831 hectares (14,292,157 acres) used primarily for cereal grains like wheat, barley, corn, oats, and legumes, but also for livestock like sheep, pigs, and cattle. Vineyards are also found here, with 56,337 hectares (139,211acres) of grapes grown in 55,000 vineyards.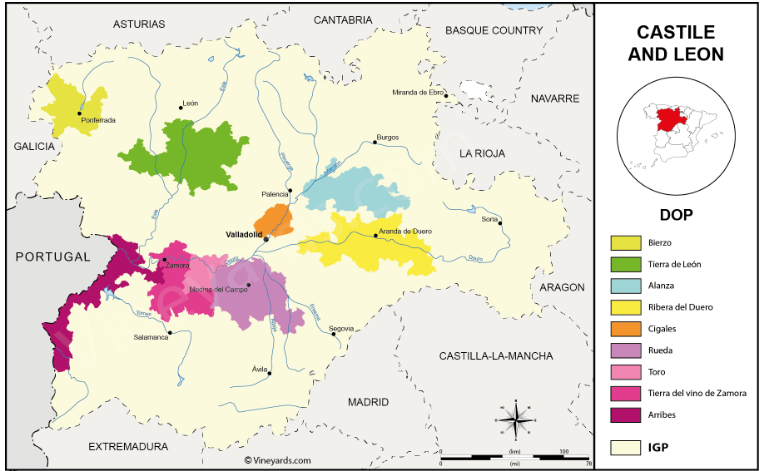 Ribera del Duero
I'm going to focus and provide information specific to the region of Ribera del Duero where the wines I'll be tasting are produced. Ribera del Duero is on a high plateau between 911m (3000ft) and 750m (2500ft) above sea level that follows the Duero River as it flows towards Portugal and the Atlantic Ocean. Ribera del Duero has a Mediterranean climate influenced by the Mediterranean Sea and the Atlantic Ocean, but the region also has strong continental influences as the winters here can be cold (freezing) and the summers very hot with up to 50 degrees diurnal temperature shift. Frost is a major threat to viticulture in Ribera del Duero. Frost can strike as late as June and as early as September. Due to the mountains to its north, this region gets less "rain on its plain" than many other areas of Spain (450mm or 18 inches per year). This area receives nearly 2,400 hours of sunlight a year similar to the Midwest of the United State in cities like Chicago or Cincinnati.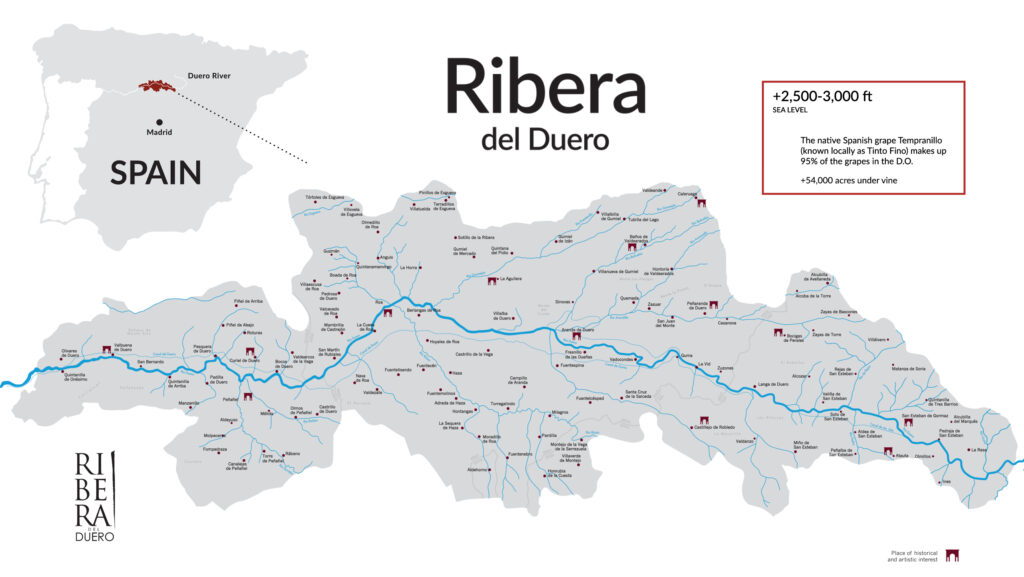 When Denominación de Origen (DO) status was awarded to Ribera del Duero in 1982 there were only nine wineries in the region, now there are over 300.  Ribera del Duero was approved, in 2008, for Denominación de Origen Calificada (DOCa) status, but it never pursued the acquisition of the classification, so it remains a single DO appellation. The description of the geography of Ribera del Duero and growth of wineries in an area known for growing grain, reminds me of the area around Walla Walla in Washington State.
Grapes and Wines
Grapes have been grown in this region for more than 2000 years. We know this based on the fact that a 66 meter (216ft) mosaic of Bacchus, the god of wine, can be found in the town of Baños de Valdearados. This is a really good indication that someone in a toga was growing grapes and drinking wine here all those years ago.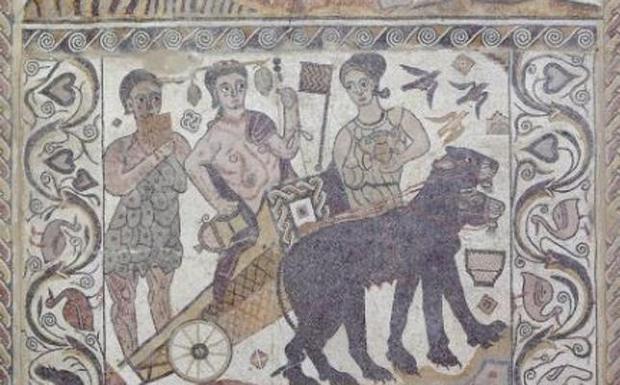 The wines in this region are almost exclusively red varietals, and when I say red varietals I really mean just Tempranillo. Tempranillo is known here in Ribera del Duero as Tinto Fino or Tinta del País and it makes up 95% of the acres planted. The name Tempranillo comes from the Spanish word for early. This may be due to the grape's early budding and ripening which is ideally suited for the short (remember the frost) and sunny growing season in this region.
The truth is, other grapes are allowed in this Denominación de Origen Protegida (DOP), Tempranillo, Cabernet Sauvignon, Merlot, Malbec, and Garnacha Tinta. The Albillo grape is the only authorized white variety grown.
To be recognized as a DO red wine, the wine must contain at least 75% Tempranillo (Most are 100%), can contain up to 25% Cabernet Sauvignon, Merlot, or Malbec, but no more than a total of  5 percent of Garnacha Tinta and/or Albillo may be added. Rosado (Rosé) wines must be produced with a minimum of 50% of an authorized red varietal and is mostly consumed locally. For the new white wines category, DO regulations required that at least 75 percent of the grape used is Albillo.
The aging requirements for Ribera del Duero DO wines have been modeled after those of other established Spanish wine regions. These set time requirements that the wines have to be aged in both oak and bottle.
Cosecha – Is a red wine that doesn't meet the required aging specifications but meets or exceeds the other classification requirements.
Crianza – A minimum aging of 24 months, at least one year must be in barrel.
Reserva – A minimum aging of 36 months, at least 12 months must be in barrel and the rest in bottle.
Gran Reserva – A minimum aging of five years, at least two years must be in barrel and the rest in bottle.
Ernest Hemingway had high praise for the Spanish wines he was consuming in the 1920s and 30s leading up to when "Death in the Afternoon" was published,  "…For any one who comes to Spain thinking only in terms of Sherry and Malaga the splendid, light, dry, red wines will be a revelation. The vin ordinaire in Spain is consistently superior to that of France since it is never tricked or adulterated, and is only about a third as expensive. I believe it to be the best in Europe by far…"  His words have a ring of truth and resonates with me today as many of the "unheralded" wines or "vin ordinaire" in Spain are organic, biodynamic, and anything but ordinary.
Disclaimer
Full disclosure, these wines were provided to me as samples from Terra Vigna, a minority, woman owned, Reno Nevada based global wine club where I am a proud paying member. In fact the 2010 Pagos de Matanegra Vendimia Seleccionada is included in the Club Vigna shipment going out the week of March 29th 2021. Info on their wine club can be found here.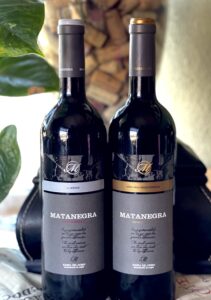 The Bodega (Celler)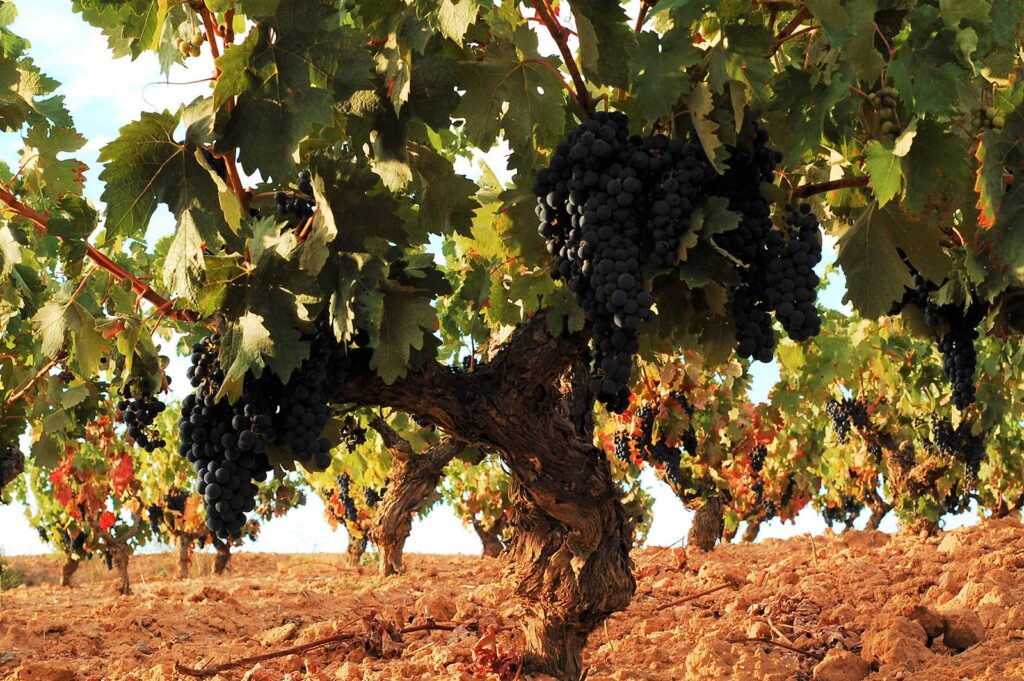 2010 Pagos de Matanegra Crianza $19.99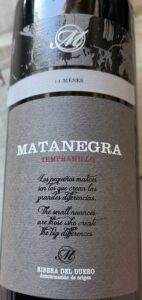 2010 is reported to have been a stellar vintage year in the region. Most of the grapes for this wine are coming from the vines in the 80 year old range. These vines are head trained, the grapes hand harvested in 12Kg(26 lbs) harvest boxes to ensure the highest quality grapes are delivered to the crusher. This wine is fermented in 15,000-liter oak vats, and then aged for 14 months in French Oak gaining the Ribera del Duero DO wine Crianza certification. 35,518 bottles were produced.
Several items stand out when I think about what I believe this wine will taste like. Number one is the grape, Tempranillo. Tempranillo is almost always rich and earthy, almost dusty to me and I expect a lot of this due to the second item. Item number two is age. Both the age of the vines and the age of the wine having been in bottle for 10 years. First the age of the vines. I love old vine wines due to the concentration and sense of terroir they produce. The age of the wine makes me believe it will be well integrated with the oak and it may have lost a little of the fresh fruit flavors in favor of some dried fruits. Last but not least, elevation. Elevation works wonders with certain grape varieties. I am expecting nice acids as the evening should have stayed very cool at the elevations these vineyards are at.
This wine showed beautiful deep garnet color in the glass. Despite the 10 years in bottle, there are little signs of aging on the edge of the wine beyond what is expected. There are good legs on the glass as one would expect in a wine with 14.5% alcohol, showing there should be a rich mouth feel.
There are red fruits like plums and dark cherries, nothing tart. Earth, both rich loam and dust/chalk. Herbaceous notes including tobacco leaf. Nice and rich, makes me want to taste it.
What a great balanced wine. Dusty red cherries with bright tart acids and earthy/woody tannins. These flavors attack my mouth at the same time making me strangely aware of the front and back of my tongue, the roof of my mouth and back of my throat simultaneously. Great long fresh finish that makes me want to take another sip.
What a great drinking well made wine. Anytime you can get an old vine, biodynamic, high elevation wine that has been crafted like this for less than $20 dollars, you have hit gold. Robert Parker awarded it 91 points.
2010 Pagos de Matanegra Vendimia Seleccionada $34.99
Like all of the wines at Pagos de Matanegra, this wine is made from from 100% biodynamically grown Tem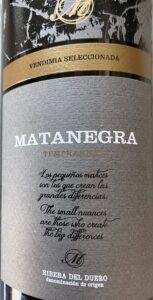 pranillo grapes. This is a limited production wine made with grapes from vines that average 80 years old. After the grapes are hand picked and fermented this wine is aged for 18 months in French oak. This wine is classified as a Cosecha. A red wine that doesn't meet the required aging specifications but meets or exceeds the other classification requirements. At 18 months it seems it would have matched Crianza, unless they released the wine before the 24 moth requirement was met. Regardless, this 2010 wine has more than met that requirement now having spent 10 years in bottle.
My pre-taste thoughts are a little skewed and biased after tasting the previous wine. The only difference between this wine and the last seems to be the extra 4 months in barrel and that this wine has 14% alcohol instead of 14.5%. So I would double down on my previous pre-taste thoughts. Rich, earthy, concentrated, good acids, and balanced.
Bright deep garnet color. The legs on this wine are thick and slow, seem richer than on our previous wine.
This is not the same wine, not by a long shot. So much nose on this wine. I feel like one of my dogs just running from scent to scent. florals, earth, herbs, game, and this je ne sais quoi, I can't put my finger on. Every time I check it I find something new. Cocoa, butterscotch, fig, rose, slate, and leather. As it sits it continues to evolve.
Wow. Like the previous wine it is balanced with nice fresh and tart acids with a warm rich flavor blanket that lays on your tongue. That blanket is really a quilt of flavors including tart red and blue fruits like a raspberry and blueberries along
with the butterscotch, slate, and tannins. Heaver tannins tell me the French oak used for this wine is all new.
I don't believe I would be able to say Tempranillo if I were blind tasting this wine. It screams French wine in complexity and elegance. To me, this seems like a blend based on the unique flavors found in this wine, much like a Châteauneuf-du-Pape. Did I say I love it? Because I love it!
Final Thoughts
What a great selection of two Tempranillos produced with old vine Biodynamic grapes from Ribera del Duero.  I am glad they did have such different tastes as it helped educate me about the different tastes possible from the same Bodega with the same grapes, and even the same level of aging.
Thanks again to Terra Vigna for providing these stellar examples from Pagos de Matanegra!
In "Death in the Afternoon", Hemingway writes this about wine, "Wine is one of the most civilized things in the world and one of the natural things of the world that has been brought to the greatest perfection, and it offers a greater range for enjoyment and appreciation than, possibly, any other purely sensory thing which may be purchased. One can learn about wines and pursue the education of one's palate with great enjoyment all of a lifetime, the palate becoming more educated and capable of appreciation and you having constantly increasing enjoyment and appreciation of wine…" It is my hope that a few of my words about these wines have allowed you to "becoming more educated and capable of appreciation" of the wines of Ribera del Duero and to feel as I have, the sun and the wind, smelled the grain and dust, and tasted the wine.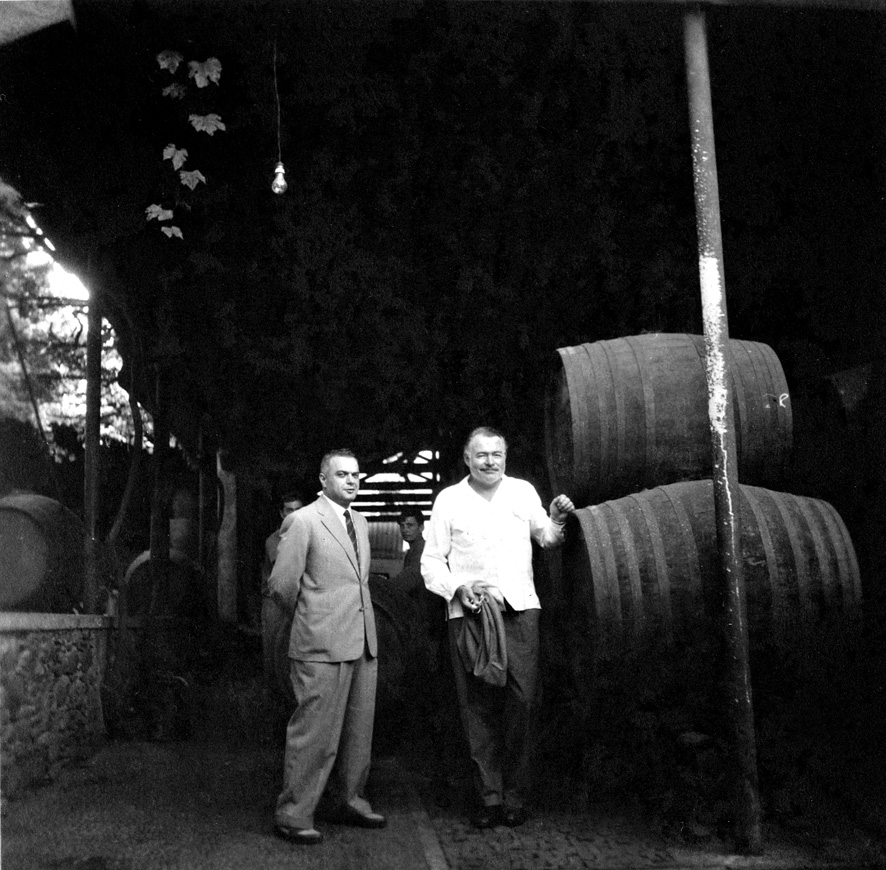 #WorldWineTravel
If you want to know more about this region , check out these other articles these writers participating in the #WorldWineTravel: