"We are selling an experience" Jonny Dyer, a manager at Tastings, a wine bar located in the Conrad hotel in downtown Indianapolis explained. "We have more than 200 different wines in stock and 72 of them are available by taste or by the glass from our state of the art self-service dispensing machines. This allows us to provide an unrivaled number of wines to be tasted, far more than any other wine bar or restaurant. This really allows for our patrons to expand their wine tastes in a very affordable way."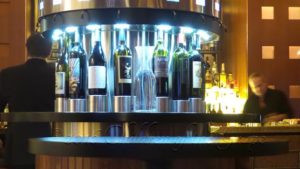 I have to agree, the list of wineries and wines that are available for a sip or glass was impressive. I was there on a Monday night and the crowd at 9:00 pm was an interesting mix. One couple in close intimate conversation, broken only by trips to get more wine. Several groups having a light dinner, and a louder group who I believe were taking advantage of Tastings' full bar. Not everyplace could pull of these different groups at the same time without one group affecting another's vibe. Tastings can. Their lighting and décor provide a comfortable intimate environment, with a lot of nooks where you can build the experience you want.
Jonny went on to explain, "We are really fortunate. We get a lot of out of town visitors with all of the attractions here and conventions that draw people from around the world. These visitors are pleasantly surprised to find the selection of wines we provide, allowing them to really enjoy their visit.
When asked if they have a regular clientele, Jonny became animated as he discussed them. "Our regulars are great. They are so diverse, from a younger mid 20s crowd who can really relate to our staff, to a much older customer who is able to not only stop in for a relaxing glass of wine, they can also buy a bottle to go. Because we have such great relationships with our wine buyers, we are able to provide a selection and a price of wines that rivals what you can find in a wine store."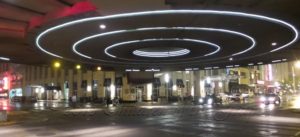 Tastings has been open for about 6 years and is getting ready to expand into the neighboring State of Ohio, looking to open their second location in Columbus's Short North district in a few months. One other venture they are getting ready to start providing is a wine truck. They will be able to take their wine truck to outdoor venues where you may be used to getting a bite at a food truck and maybe a beer, now you will be able to get a proper glass of wine to pair with that taco.
If you find yourself heading to Indianapolis, be sure to keep some free time to visit Tastings, you will not be disappointed.
Tastings
50 West Washington St.
Indianapolis, IN  46204
http://www.tastingsbar.com/