In the first installment of the Urban Winery Series we talked about the why. Why this movement, this counterculture, even started. Now that it has started, how big can it get?
Due to the smaller number of cases produced by most Urban Wineries, they are less likely to be a disruptor of the major players in a big way. Unlike their craft beer brethren, the Urban Wineries are limited by their raw material, and securing high value fruit is getting harder and more expensive. This is especially true as more acres of vines get added to the large corporate vineyards. I spoke recently to a Cellar Master who told me some Santa Cruz Pinot is now fetching four thousand dollars per ton of fruit. He can get other Pinot for less, but he feels the quality of the fruit matters and it is worth the premium. Not only that, the growers are getting locked into longer term contracts which will further effect prices and supply.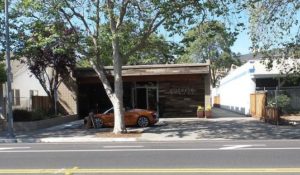 Coterie Cellars in San Jose California is an Urban Winery. It is owned and operated by Kyle and Shala Loudon. I had the opportunity to speak with Kyle on a busy Sunday afternoon while the tasting room was nearly filled with a mix of wine tasters and a few neighborhood couples just enjoying a glass of wine. "We feel it is important to make the wine in the community where we live," Kyle explained while pulling us up a couple of folding chairs, just on the other side of the glass rollup garage door that separates the tasting room from the production facility. When asked about the most important aspect of wine making for him at Coterie Kyle said, "It's the quality of the grapes, without good fruit, there isn't a lot you can do". "We really have a hands off approach to wine making", "You have to have patience to let the processes do what they need to do, and not be disruptive to them".
Great advice, and words I seem to hear more from Urban or Boutique Wineries than some of the larger Wineries where maintaining a flavor profile for certain wines is an important factor, therefor they feel the need to be reactive to the fermentation process and may need to "meddle" more during the process to preserve a minimum quality of the end product at the risk of reducing a potentially superior product and their reputations.
I would argue that Urban Wineries are simply a natural extension and evolution of the wine industry. A cycle that brings a new generation of dynamic risk taking wine makers to the forefront. Wine makers who want to ignore the rules they feel limit them and their ability to express what the grapes are trying to be.
In the May 31st 2016 edition of Wine Spectator, Christophe Baron, owner of Cayuse Winery (not an Urban Winery), stated, "I moved here (Wala Wala Washington) to be free – Free of the expectations that come with being the next generation in France, free from the restrictions of the (French) AOC System. Nobody comes to bother me in my vineyards to tell me what to do, and that's priceless". That spirit, that feeling, is what I hear from every winemaker in the Urban Winery movement. Let me select the grapes I want, and make the wine that I know I can make.
As you can see, this seems to be a growing trait, even in the established wine industry, not just in the Urban Winery trend.
Get ready for the next installment of the Urban Winery Series where I talk to some wineries outside of Napa's shadow.