I say Cava and you say? The words delicious and value should be at the top of your vocabulary list. Cava compares very favorably to similarly aged French Champagne at a much lower price point.
The #WorldWineTravel group is continuing its virtual tour of Spain and this month features the region of Catalunya which includes the region of Penedès where a majority of Cava is produced.
What is Cava?
Cava is a sparkling wine produced in the traditional method (like Champagne), in specific regions of Spain. Traditionally these wines were from Catalonia but it is possible to produce Cava in 6 other DO regions in Spain. The name Cava, #spoileralert means cave in Spanish, and is used as the name of this specific wine style after the caves it is aged in. These sparkling wines have been known as Cava since 1970 when the French Champagne authority and international laws prohibited the use of the term Champagne outside of that specific region in France.
History
While there seems to be many differing stories on the origin of Cava, I'm going to use the information found on Spanish-wines.org. This style, known at the time as Champaña, was originally produced by Luis Justo Villanueva at the 'Instituto Agrícola Catalán de San Isidro' (Catalan Agricultural Institute of San Isidro). After Luis's experimentation, Francesc Gil and Domingo Soberano de Reus made some of their own Champaña for the Universal Expo of Paris in 1868. The entire region of Penedès benefited when phylloxera started to ravage French wine areas causing wine makers to move to other regions not yet affected, bringing with them their skills and expertise
Variety
In this blog I'm going to report on two Cava Reserva Rosés that are from the D.O. Penedès but produced using different approved grapes
Region (Appellation)
The D.O. Penedès is located on the outskirts of Barcelona closely located to the Mediterranean Ocean. As you can see in the map below there are some higher elevations and low coastal regions nearby that create varied microclimates. The two wineries I'll be discussing are located near the Penedès flag on the map.
Grapes
There are 18 grapes that producers are allowed to use to produce cava or quality sparkling wines. In the PDO Penedès, Cava must be produced from organic grapes. The most popular 9 grapes used to produce Cava include 5 white grapes, Macabeo, Xarel·lo, Parellada, Chardonnay, and Subirat Parent. The remaining 4 red grapes are, Red Garnacha, Trepat, Pinot noir, and Monastrell.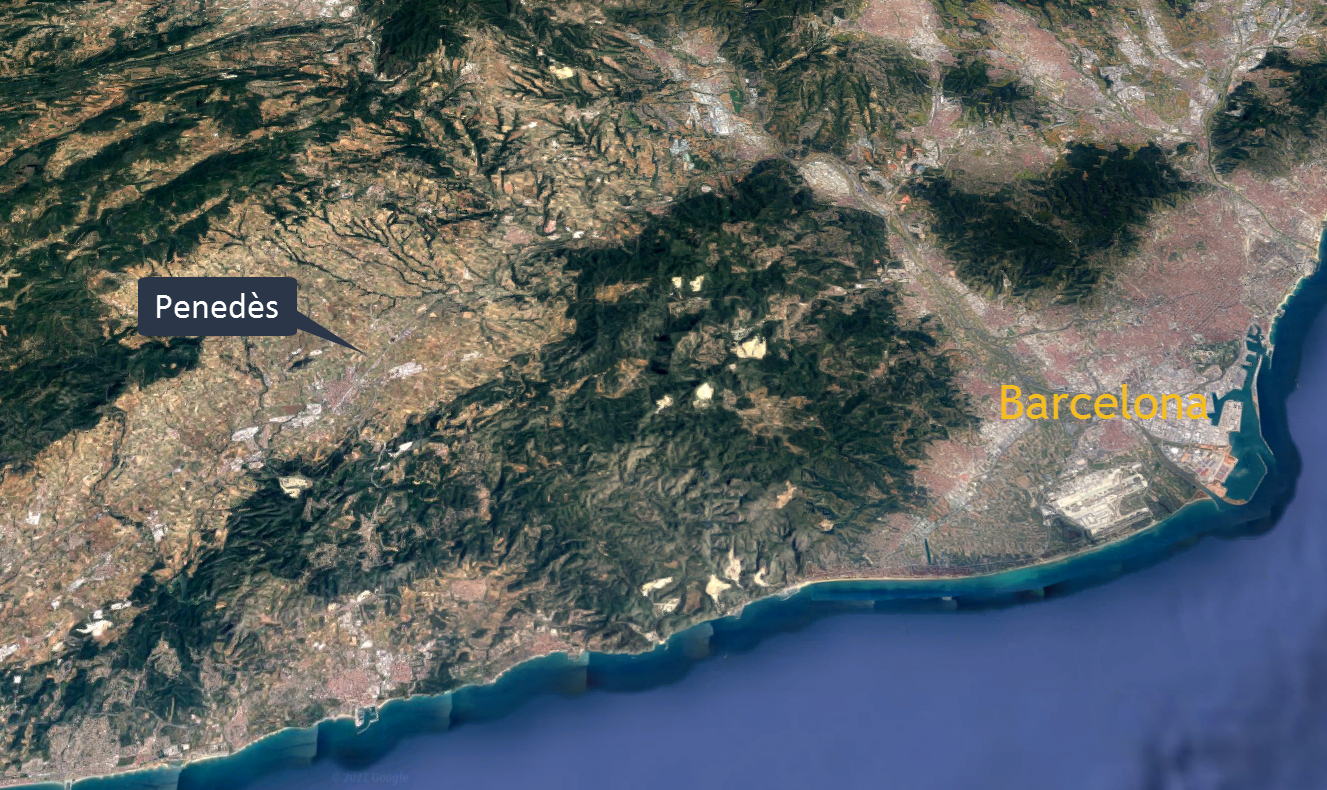 Disclaimer
Full disclosure, these wines were provided to me as samples from Terra Vigna, a minority, woman owned, Reno Nevada based global wine club where I am a proud paying member. They have graciously extended an offer to you of 10% off when you buy 6 or more bottles of either of these wines. Just use discount code ROSECAVA.
As I stated above we are tasting two Cava Reserva Rosés that are produced using different approved grapes. and for these tasting, maybe because it has bubbles, the whole Children of the Grape Team wanted to be involved!
Heretat Mastinell Rosé Cava 2017 $24.99
Mastinell is family owned founded in 1980 in the heart of the Penedès. They produced their first Cava in 1991 and had produced such a quality product that was selected for Spanish Princess Cristina's wedding in 1997. This same Cava Brut Real was selected in 2008 as the official Cava of the Beijing Olympics. In 2018, Mastinell was recognized by Decanter as one of the best wine destinations in Spain.
Mastinell does not use any animal products in their wine making process and they have been certified by the European Vegetarian Union as a vegan wine.
The Heretat Mastinell Rosé Cava Reserva 2017 is produced using 100% Trepat, a somewhat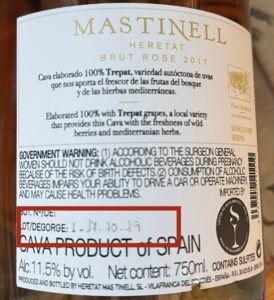 unknown indigenous grape of Catalonia. This grape produces a beautiful bright pink Cava. This Cava is 11.5% AOC and spent around 24 month on its lees. I know this thanks to Mastinell putting the degorge (disgorging) date on the bottle.  As you can see in the image to the right, this specific bottle was disgorging on my
birthday, October 17th in 2019.
Trepat? What the heck does Trepat taste like? Well, I don't know, I've never had this grape before. But, the color is gorgeous! At 11.5% AOC I expect it to be bone dry. After spending 24 months on it's lees I'm expecting some nice yeast and toasty bread notes. Being made in the traditional method, the bubbles should be fine and plentiful. Super excited to get this wine in my mouth.
This wine showed beautiful gold-rosé color in the glass with a ton of bubbles. as you can see in the pictures. I also poured some in a Coupe glass to be able to really see the bubble size.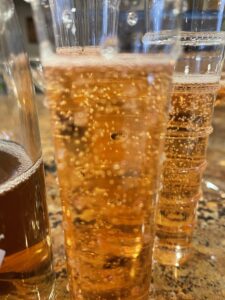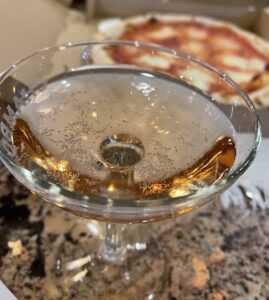 Three of four tasters got citrus fruits right away, but specifically Grapefruit. Fresh fruit notes and fruitiness Lots of yeasty odors, the bubbles were doing their job carrying those smells.
Wow. I love this wine and will be buying some for my cellar. As on the palate , grapefruit and light sparkling citrus and bread. Great mouthfeel. One of our tasters said it tasted sweet and after we stopped making fun of him we helped him understand it was the high acid, fruity nose and lack of any mouth drying tannins that creates this sensation. But his perception brings up a great point that many people who like sweet wines are really super sensitive to bitter compounds that this wine seems to have little.
This was an amazing wine that receives four thumbs up from the Children of the Grape staff. Now that I know what Trepat tastes like I will be looking for it and I now have a curiosity about what a red wine made from Trepat tastes like. Highly recommend this wine.
Cava Berdié Amor Brut Reserva Rosé NV $24.99
Cava Berdié is owned and run by the Jovani family since 2007 in Penedès and located about 5km as the crow flies from Mastinell. Berdié only uses traditional grape varieties processed in the traditional method to produce their Cavas. Each grape variety is vinified separately under temperature control, blended to achieve their signature flavor profiles, and aged in their underground cellar.
This Cava is produced using Macabeo, Xarel lo, Parellada, and Garnacha grapes. This is a non-vintage Cava and is aged between 15 to 27 months and production is 20,000 bottles per year.
Amor, what is not to love? This wine is made with more traditional grape varieties with a splash of Garnacha for color, so I'm expecting high acids. This wine is also 11.5% AOC so I expect it to be bone dry, but seem fruitier due to the grape blend. With the grapes being vinified separately and aged to different levels I expect the yeastiness to be more integrated as the wine maker can blend the different wines to achieve a taste profile they want.
This wine was a more gold than rose with nice fine bubbles showing the quality production.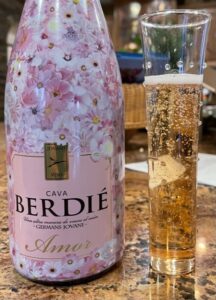 Three of us yelled cherry right away. Additional notes included amaretto, marzipan, and almonds. their was a tart acidity, but fruit notes were faint.
This Cava is more bubbles and pop rocks than fruit. There is a lot happening as the bubbles and acid play on your tongue and carry the subtle aromas of the amaretto, marzipan, and almonds into your nose along with Granny Smith apple and pear. Well balanced and quality.
We liked this wine. Upon discussion the Three Children of the Grape agreed we prefer more citrus and grape fruitiness in our sparkling wines than apple and pear.
Final Thoughts
What a great selection of two totally different Cavas produced a few kilometers from each other! I am glad they did have such different tastes as it helped educate me about the different tastes possible from the same region with different grapes. Thanks again to Terra Vigna for providing these stellar examples of Cava from Catalonia!
Still craving bubbles the Children of the Grape team opened a bottle of Veuve Clicquot Rose Champagne that retails around $65 a bottle. All of us still preferred the Heretat Mastinell Rosé Cava 2017 at $24.99! Better taste at less than half the cost.
#WorldWineTravel
If you want to know more about this region beyond cava, check out these other articles these writers participating in the #WorldWineTravel: