One of the post-excursions offered after the 2019 Wine Media Conference was a trip to visit the wineries in the Mudgee Region in New South Wales. Our group was made up of 19 wine writers mostly based in the United States, but also representing Brazil and France. The term Mudgee is derived from the local Wiradjuri Aboriginal term Moothi. This term translates to nest in the hills, and if you ever find yourself there in the Mudgee Valley you will truly understand why the Wiradjuri referred to this area that way. Mudgee is located a three and a half hours drive northwest of Sydney on the west side of the Great Dividing Rage, and nestled by the hills around Mudgee you will find over 40 family-owned boutique cellar doors.
Day One
This excursion started early Sunday morning in the Hunter Valley where we met up with our hosts Ben and Cara. Cara George is the CEO of Mudgee Regional Tourism. She and her team were primarily responsible for the organization of our trip and they did a great job in every detail. Ben, with Mudgee Tourist Bus was an important piece of the trip and Cara and team couldn't have chosen a better driver or Mudgee Ambassador. Ben is a Mudgee local who knows, loves, and respects the area and never failed to share his knowledge of the land, the animals, and the people of the areas we traveled through. He was a true gift to a group inquisitive bloggers traveling in a strange land.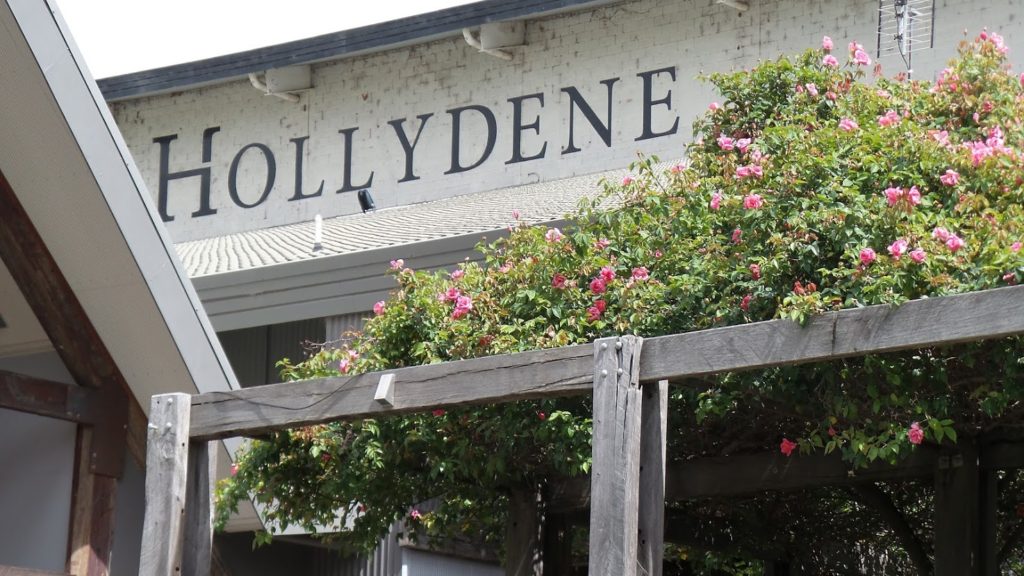 The first leg of our trip was only an hour bus ride away in the Upper Hunter Valley where we stopped at Hollydene Estate Wines for some Bubbles and brekkie. Brekkie is the way many Australians say breakfast and just one of the unique ways they find to make the English language their own
Our Bubbles, a 2008 Methodé Traditionelle Juul Sparkling Blanc de Blank was a perfect pairing with our breakfast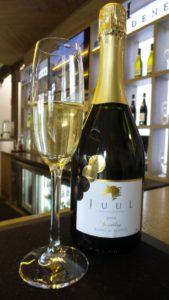 sandwiches and set the stage as our host Jo walked us through some of the other wines they produce at the picturesque Hollydene Estate.
Some of the wines we tasted were:
Hollydene Estate Semillon 2013
Hollydene Estate Shiraz Tempranillo 2015
Hollydene Estate Show Reserve Chardonnay 2014
Hollydene – Wybong Chardonnay 2014
Hollydene – Wybong Chardonnay 2012
JUUL Sparkling Blanc de Blanc 2008
Once Ben got us back on our bus we were able to experience the beautiful scenery for the next 2 hours along a hundred and sixty kilometers of the Bylong Valley Way that winds its way through the mountains taking us to our next stop, and lunch.
We were greeted at Robert Stein Vineyard and Winery,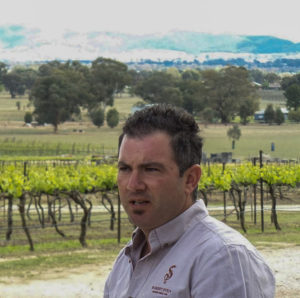 a 5 start winery in James Haliday's Wine Companion, by Jacob Stein
the chief winemaker and Mudgee's 2019 winemaker of the year. Jacob explained the history of the winery as well as his family's history in Australia that goes back to 1838.
Jacob invited us into the Pipeclay Pumphouse, a paddock to plate restaurant located at the winery that is run by Chef Andy Crestani. Our lunch started with a traditional charmat method sparkling made with Chardonnay (80%) and Pinot Noir (20%) while the first of our 8 courses arrived!
Chef Andy provided the following world class dishes that were paired perfectly with Jacob's wines.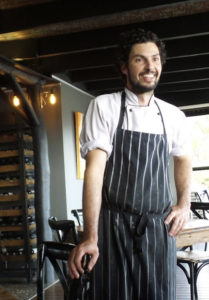 Orange, fennel & rosemary marinated olives
Pipeclay Produce charcuterie- salami, pork rillette, duck liver parfait & pork terrine
Kangaroo tartare with sweet potato and sunflower
Scallop boudin blanc with truffled pea
Mussels Marinière with house made bread
Gnocchi with duck & mushroom ragu
Ash crusted beef fillet with beetroot & onion
Fondant garden potatoes with truffled salt
The wines that Jacob served us included several that have received more than a 90 point score, as well as having received 8 trophies, 9 gold medals, 7 silver medals, and 9 bronze medals.
2018 Half Dry Riesling
2019 Dry Riesling
2018 Saignee of Shiraz
2018 Third generation Chardonnay
2017 Cabernet Sauvignon
2015 The Kinnear
Jacob invited us to grab our wine glasses as he walked us over to their Motorcycle Museum. This is a collection made up of motorcycles collected by the winery's founder Robert Stein, beginning with his first motorcycle, a 1928 Douglas.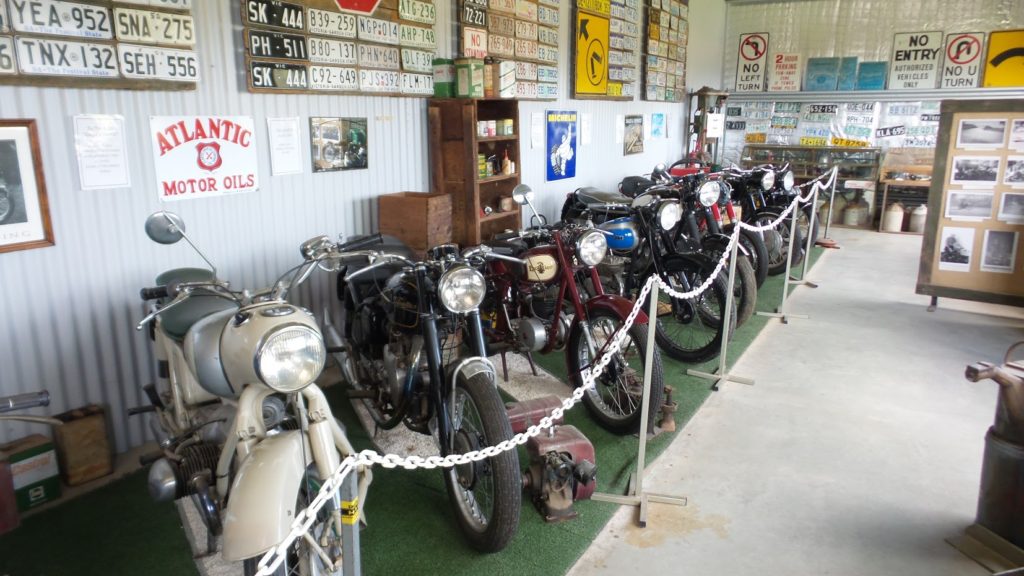 I think we were all a little reluctant to leave hoping for another of Andy's delicious plates or more of Jacob's amazing vintages, but Ben got us all back on the bus so we could check into our accommodations in Mudgee.
We had a slight delay heading back to the hotels when we spotted kangaroos in the Stein Vineyard. Why they didn't run away after hearing the squeals of delight that were released at the first sight of them, I'll never know.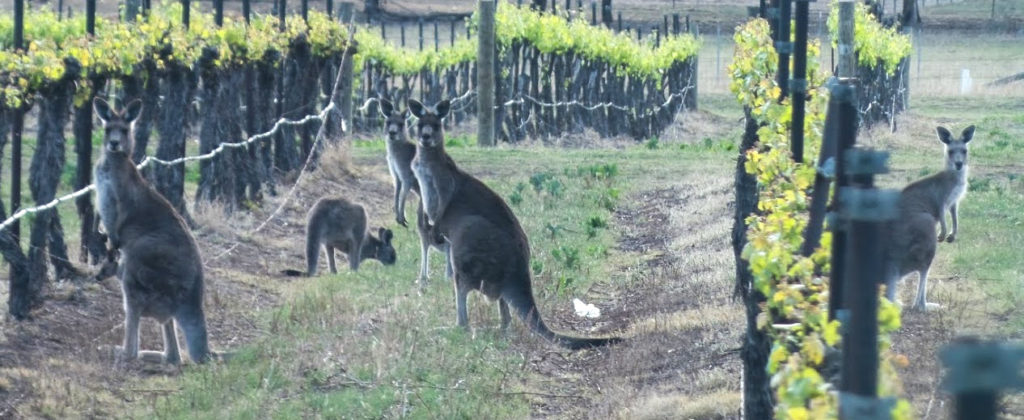 We had about an hour to unwind at our hotels before our next stop, a wine master class at another Mudgee Halliday 5 Star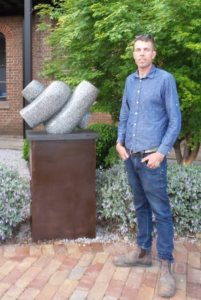 Winery. While walking out my hotel I noticed a gentleman installing a granite sculpture and I casually asked him if he was the artist. To my surprise, yes he was. Edward Willson is a contemporary Australian Sculptor, based at Bermagui. The piece he was installing at our hotel is titled "Cross Rhythms". One more reason to love Mudgee.
The Cellar by Gilbert traces its ancestry of Australian wine making through 6 generations going back to 1839 in the Eden Valley. Father and Son winemakers Simon and Will Gilbert have been able to accomplish something really special. Not only are they able to work together as Father and Son, but they are also able to keep one foot firmly rooted in the traditional wine styles of the region, while also breaking new ground with their Gilbert Experimental line of wines. Will Gilbert greeted us at their cellar door while pouring our first wine of the evening, his 2019 Rosé Pétillant-Naturel, made from 100% Sangiovese.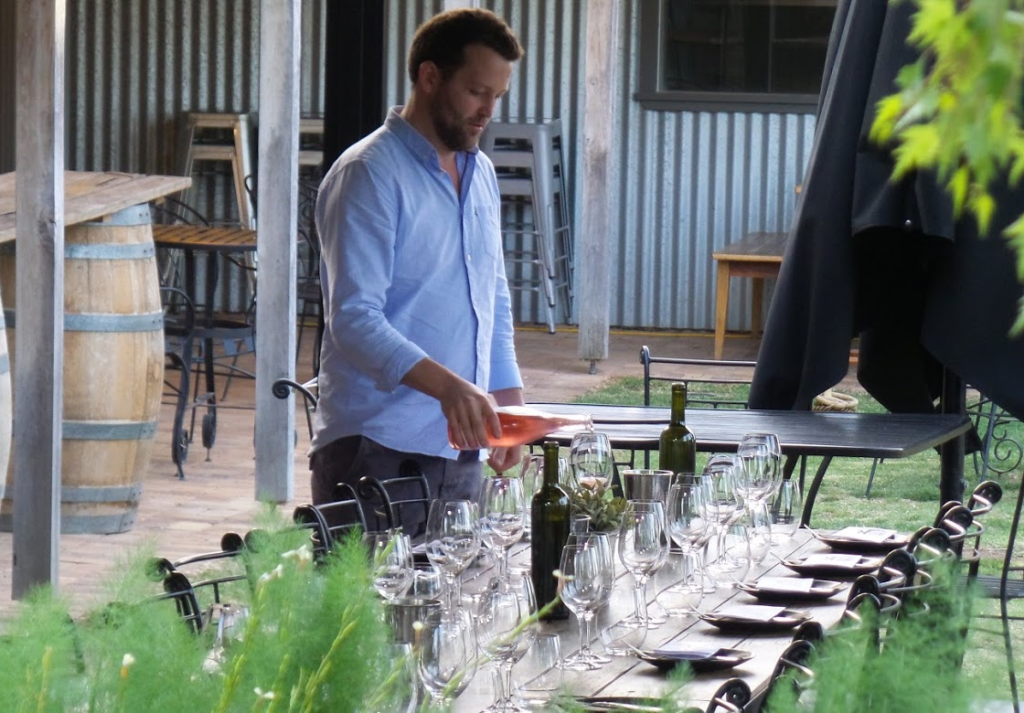 This wine paired well with the local produce platters that included cheeses from the High Valley Cheese Company.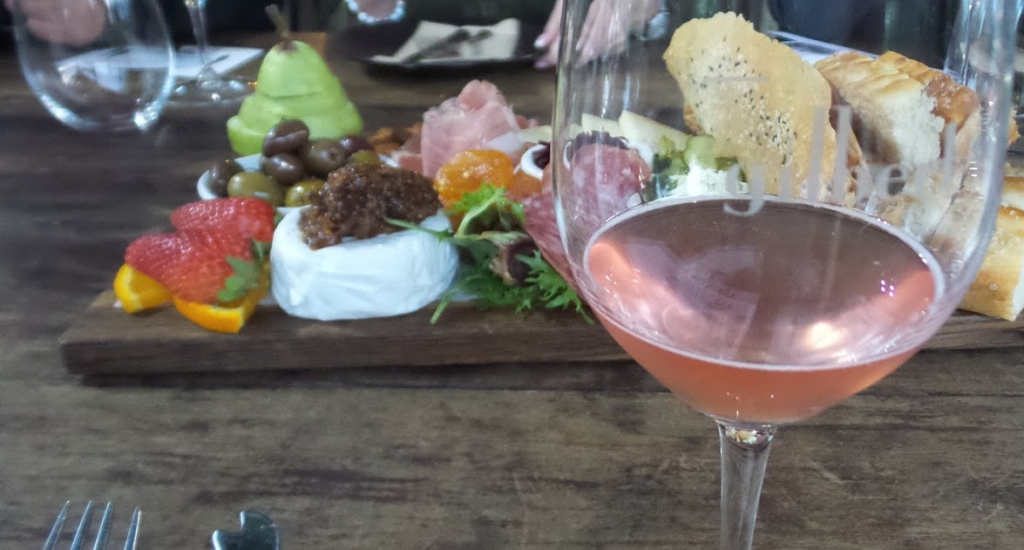 Our next wine, a 2017 Skin Contact Gewürztraminer, is also an experimental wine of Wills. This wine is made from grapes sources in Orange and produces an orange style wine. So it is an orange wine from Orange, not something you will get every day.
Additional wines shared included:
2016 L.C.R Chardonnay
2018 Sauvignon Blanc Sur Lie
2015 Eden Valley Riesling
2010 Eden Valley Riesling
2017 Pinot Noir
2018 Lignée Magnum
There were 3 different hotels that were options for us to reserve, these included the Parklands Resort and Conference Centre, Parkview Hotel, and Perry Street Hotel, and I only heard good things about all of them. I stayed at the Perry Street Hotel and everything was on point including a Kimono in the room that inspired a kimono wine party on the upper front porch for a few of us, where we finished off the 2018 Lignée Magnum that Will graciously donated for the party.
Day Two
Down a hidden little alleyway across from the Anglican Church you will find Alby & Esthers in a quant 1873 stone terrace. Our group fortified ourselves with strong coffee, teas, and local Brekkie fare including a Jaffle, which is toasted sandwich that in this case was made with locally smoked ham, local free range organic egg, Swiss cheese and tomato relish.
A quick 10 minute drive outside of town brought us to Moothi Estate. Owners Jess and Jay named the vineyard Moothi, the Wiradjuri Aboriginal term, because from their lofty perch they feel they are in a nest in the hills. We happened to be visiting them on the day of Canada's Thanksgiving Day which was appropriate, as Jay is Canadian and was talking about what foods and wines they were planning on for dinner.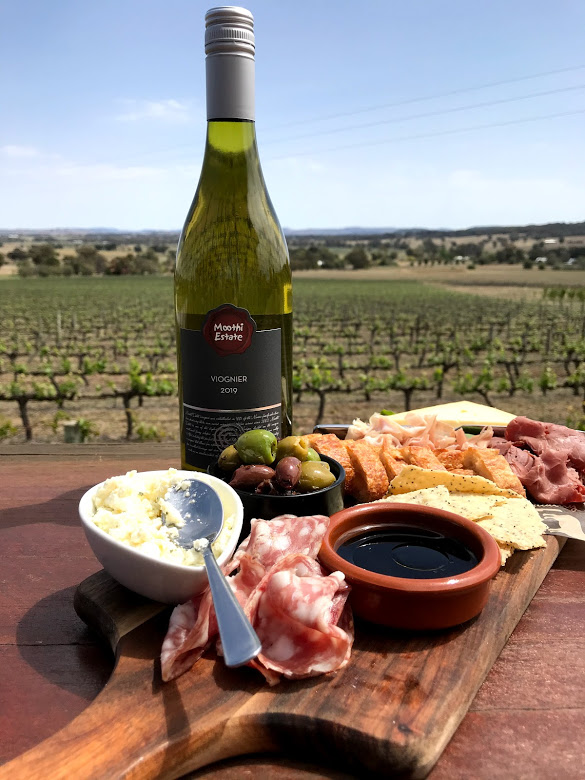 Thoughts of which of their wines would pair with a Thanksgiving feast were running through all of our heads as we tasted their offerings. Some of these included:
2019 Riesling
2019 Viognier
2019 Sparkling Shraz
2017 Moothi Rocks a Shiraz/Merlot/Cab blend
2017 Shiraz/Viognier (My choice for Thanksgiving!)
A Fortified Shiraz from their block 1
Peter Logan was making wine for another winery when his father Malcom asked him if the parcel of land on the hillside next to them would grow good grapes, Peter assured him that yes, it would. Good, his father said, I just bought it down at the pub. So started Logan Wines with a handshake purchase. Peter had us take our glass of his Sparkling M Cuvée out on the deck where he shared that story about his father Mal, for whom the wine is named.
Next Peter shared his 2018 Clementine Pinot Gris that is produced with extended skin contact creating an orange wine. Logan wines produces several ranges of wine, one of them is known as the "Ridge of Tears". This group of wines includes 2 different Shiraz wines, one from grapes grown in Mudgee, the others grapes are from Orange. Allowing us to taste these wines side by side was really the best way to showcase these two unique regions that are adjacent to each other, yet unique due to the elevations. The labels show drawings of Mel and an "aged" version of Peter.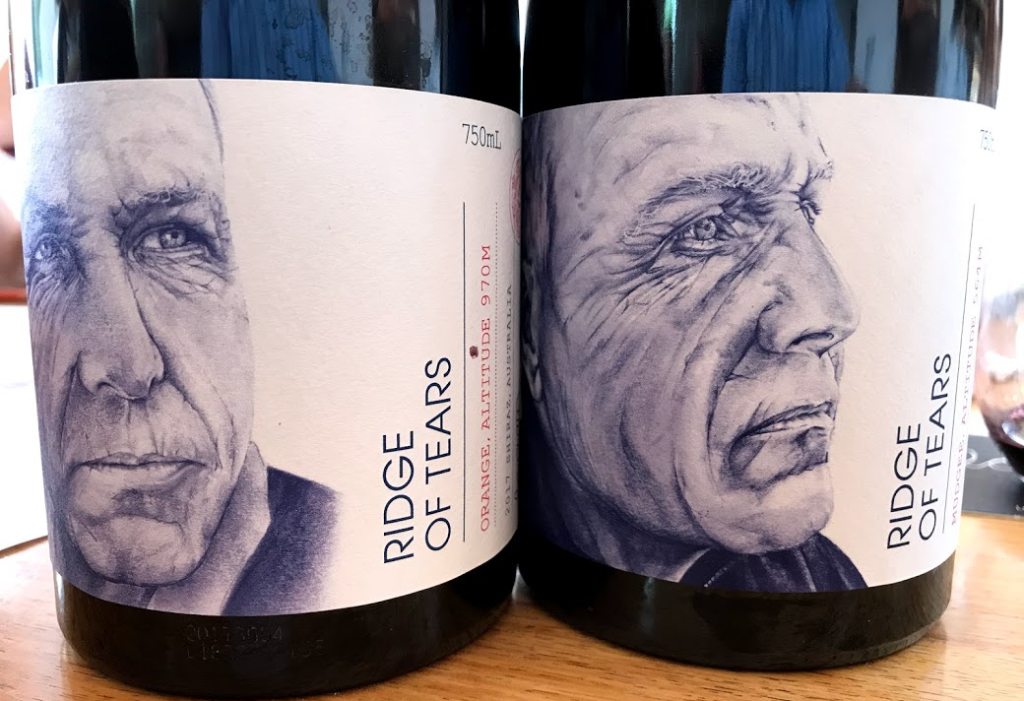 Mudgee has a strong and growing destination wedding and event business and Burnbrae Wines is a great spot for either of these. With an event space that can hold 80 people to a wedding space that can hold 250, they can host all of your events. Looking for a weekend getaway? You can rent their Winemakers Cottage, a 2 bedroom cottage with a fully equipped kitchen. While you are there you will want to visit their cellar door to try one of their sparkling, white, or red wines. If wine isn't your thing, they even have a nice lager.
Mudgee's reputation as #1 Foodie Destination in Australia by Australian Traveller Magazine in 2018 is well deserved. We were honored to be allowed to experience another of these locations for our lunch. This time we were escorted to The Zin House, an organic and biodynamic regional restaurant, by Chef Kim Currie's husband, CEO, and chief winemaker of Lowe Wines, David Lowe.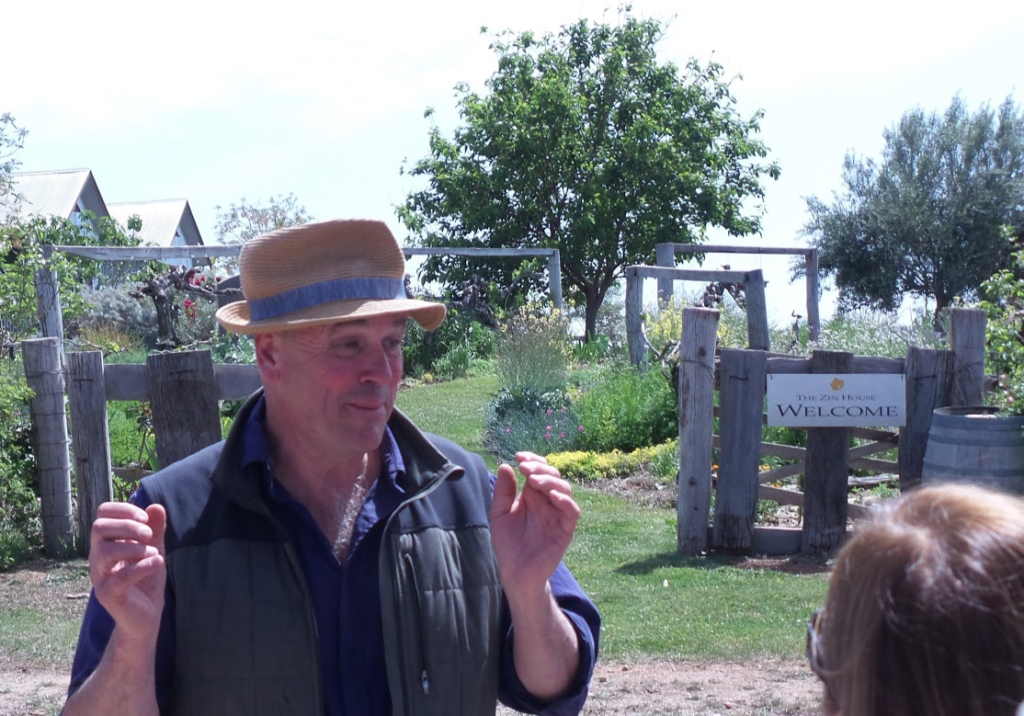 We were poured a glass of 2018 Lulu Zinfandel Rosé by Alexander, David's son, and the restaurant's sommelier. Chef Currie's dishes were superb, made with vegetables, olives, greens, and herbs picked moments before being place on our plates.
David Lowe fell in love with Sonoma California, specifically the Dry Creek region that is known for their world class Zinfandels. His friend and mentor Fred Peterson the owner of Peterson Winery in Dry Creek told David that quartz soil where gold had been found would grow Zinfandel, and so it does. David is a scientist who fell in love with wine. In his younger days back in 1979 he had the opportunity to taste the top 20 wines in the world at that time, 9 of these wines were either organic or Biodynamic. Based on this, David came to believe in and embraced the organic and biodynamic methods of farming to produce world class wines.
Some of the wines that David shared with us included:
2016 Lowe Organic Merlot
2014 Lowe Block 8 Shiraz
2016 Lowe Zinfandel
2009 Lowe Zinfandel (not for sale)
Ben then returned us to our hotels to relax, or if we had room after our late lunch, to go explore Mudgee for dinner. One of our companions, Amber, suggested that we do a live tweet the share with the world how wonderful the people and wines of this nest in the hills truly are. I wondered down to the pub in the Woolpack Hotel, where I'm now known as Steveo. Here I enjoyed yet more Mudgee wine and participated in our group's live tweet. Russ, a local who has lived in Mudgee for 28 years, sat down next to me while waiting for his take away Chinese food. He swears it is the best in town and based on smell alone, I have to agree with him. As we sat and chatted he introduced me a man who had just walked in and grabbed a beer from the bartender without having said a word to him. Russ introduced the man as Rev, and it turns out he is the local Rector of the Anglican Church. As Russ left with his food, the Rev, walked us over to another table where we joined 3 other gentlemen who live there in Mudgee. We spoke of Mudgee, wine, and life and they all seemed interconnected at that moment in time.
Day Three
It was time to check out of our hotels and get ready to leave this area that will always have a little piece of my heart. Today we only have one wine stop and a long bus ride over the Great Dividing Range, better known as the Blue Mountains here.
Our last winery stop was at De Beaurepaire Wines in Rylstone, about 45 minutes from Mudgee. If there is one factor you will understand after visiting De Beaurepaire Wines, it is their terroir. They believe the terroir their vineyards have are unique conditions for Australia. Conditions which give their winery arguably the closest terroir in Australia to Burgundy based on the combination of soil structure, climate and temperature range. The image below that graphically displays this relationship is from the De Beaurepaire website.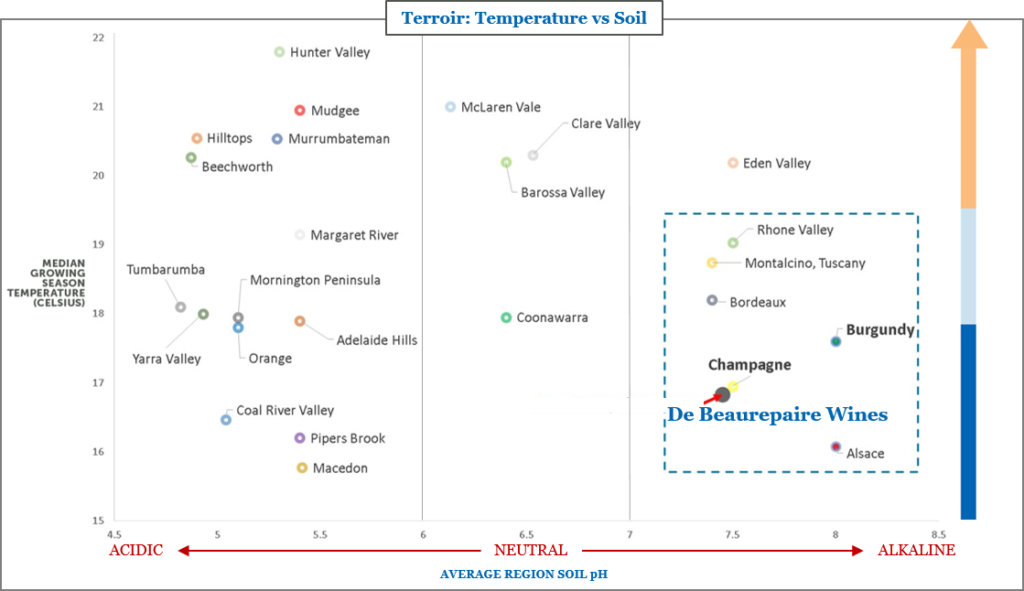 They make 16 different wines that are produced by 5 different winemakers, selected based on the type and style of wine De Beaurepaire want produced. In 2016 De Beaurepaire Wines had 5 wines in the running for the Australian Wine of the year, and their 2016 'Coeur D'Or' Botrytis Semillon won this honor.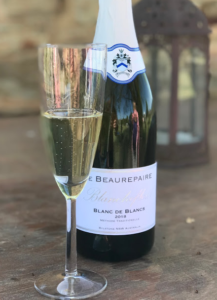 The wines we were served by Janet and Amanda De Beaurepaire included:
2018 Blanchefleur Blanc de Blanc
2018 'Coeur D'Or' Botrytis Semillon
2017 La Comtesse Chardonnay
2017 Jeannette Chardonnay
2017 Perceval Pinot
2016 Le Chevalier Merlot/Cabernet/Petit Verdot
2016 Leopold Reserve Shiraz Viognier
After our goodbyes to Cara we were back on the bus to complete our journey with Ben over the Blue Mountains and down into Sydney.
Ben as always kept us entertained on the bus ride by pointing out spots of interest including stopping in the Blue Mountains National Park so we could see Capertee Valley, the world's second largest Canyon. It is a kilometer wider than the Grand Canyon, but not as deep.

I'm not exactly sure how to write a closing statement on a trip like this one. The slogan for the Mudgee Region created by the Mudgee Regional Tourism is "Reset Your Senses". I think I can speak for all of us in saying the main sense that got reset was our sense of wonder. We were all blown away by the food, the wine, and the people of Mudgee. I believe more than a few of us were ready to move to Mudgee.
I want to first thank my fellow attendees. Having 19 different personalities not only be civil to each other on "a wine summer camp bus trip" as I heard one of our group appropriately refer to us, but to actually become friends, is a testament to your kindness.
A big shout out to Cara and everyone at the Mudgee Regional Tourism who organized this trip, all of the wineries and businesses who invited us into your busy lives, Zephyr Conferences for all of the work you do in arranging these excursions before and after the Wine Media Conference, and a special thank you to Ben. You were a gentleman and a scholar helping us with every aspect of out travels while always showing a friendly smile no matter how many bottles of wine we added to our luggage that you always made sure to lift for us.
If you are planning a trip to Australia, I can assure you, Mudgee is one region you do not want to overlook.